In this post I'm going to round up the the best tools for finding, researching and analyzing Reddit users.
When writing this post, I asked myself…
What are the tools that marketers & entrepreneurs need when approaching Reddit?
The tools I've found will help you
Discover at–a-glance insights into individual Redditors
Dig deeper and find out user activity patterns, sentiment, word frequency & more.
Find Reddit influencers
So make sure to stick around and see through the entire post.
Let's dive in?
Redditmeitis: best for profile research
A lesser known Reddit analysis tool, Redditmeitis dives really deep to get meaningful stats and insights about users.
Unlike any tool I've seen, Redditmeitis shows.
Comment sentiment analysis
Activity & submission patterns
Top active subreddits
A word cloud with word frequency information
Some of the activity pattern statistics
It's perfect for digging into the style and patterns of a single Reddit user.
Read on to see the best tool for tracking your posts and campaigns…
Netlify – new tool with cool UX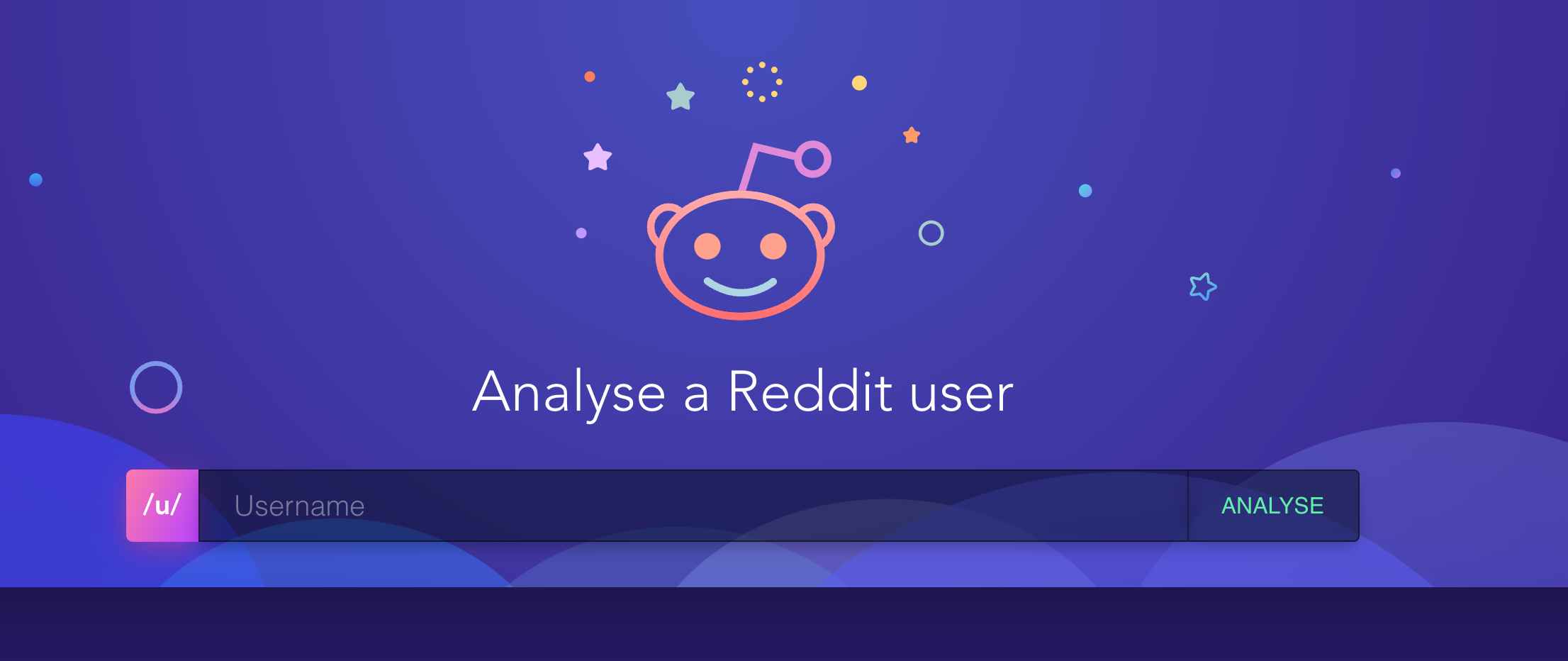 Is one of the latest tools out there that offers next-gen UX. All Millennials and Gen Z folks will definitely enjoy this tool due to its cool design and easy navigation.
The tool offers:
basic user stats
text readability and kindness meter
best and worst comments/posts
most frequently used words
top/most active subreddits
Karmalb: best for influencer research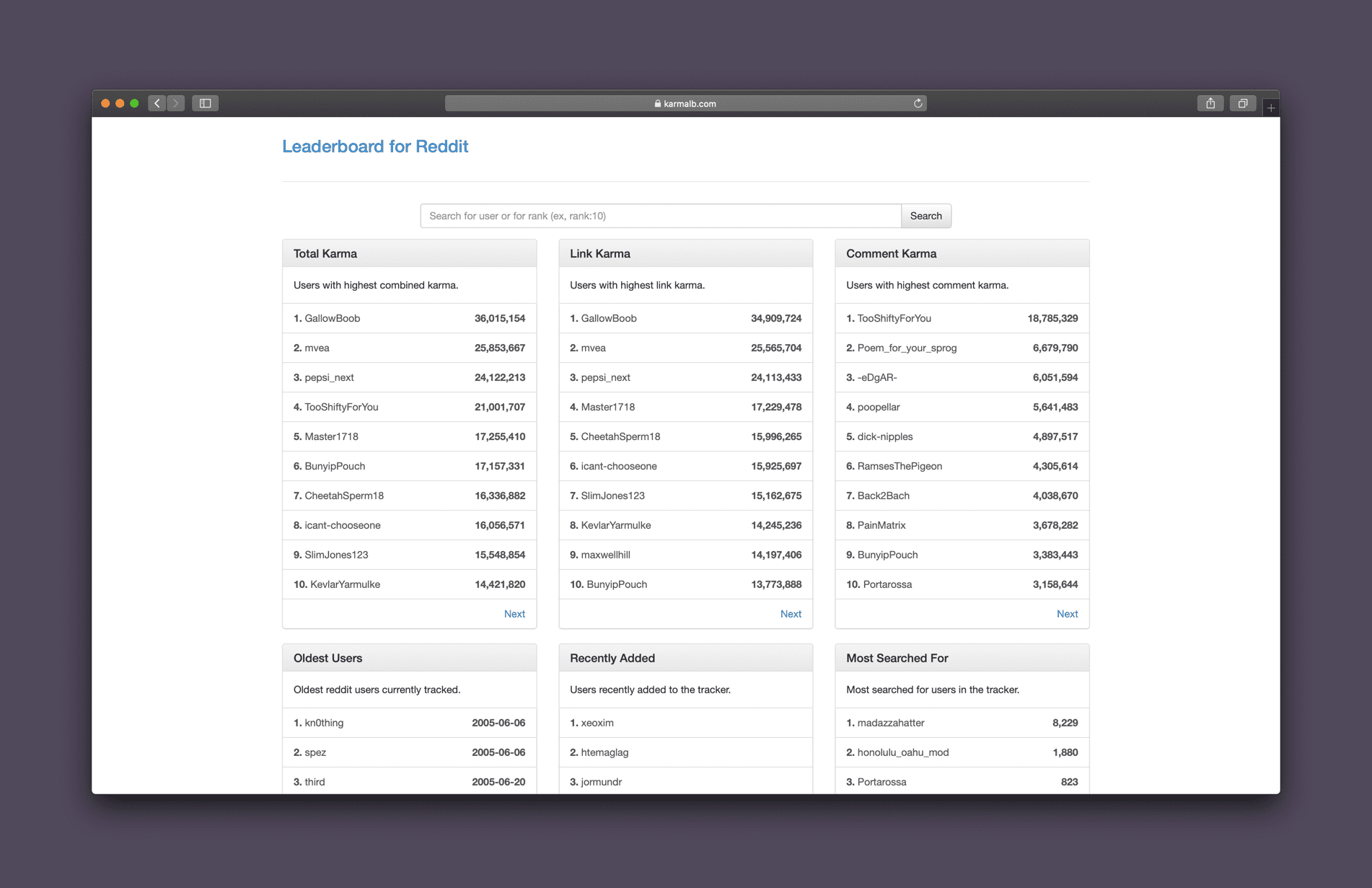 Karmalb is a leaderboard that's similar to the subreddit analysis leaderboards we've reviewed in the past. But this tool focuses entirely on users.
The leaderboards have key stats about the most active users across Reddit, along with Reddit karma & age statistics.
It's a perfect way to find influencers and top Redditors in your niche.
Redective – old school but accurate

The website looks like one of the first websites ever created. But, once you get past this, you will realize it actually offers accurate data on every Reddit user.
They do not store any data and every search is done in real time. I used this tool as a backup in case any other tool did not work for any reason.
These are the best free tools for analyzing users on Reddit.
Let us know if there is a new player on the market and I will make sure to include it in the article.
Reddit statistics
I feel like it's time to give you the latest Reddit statistics in case you are not sure if you want to do Reddit Marketing.
Most of the numbers are expected to increase in the future… So, let's move on.
Monthly active users
Reddit has 52 million daily active users. That adds up to around 430 million monthly active users. Pretty cool right?
As of April 2021, Reddit is the 15th most used social media worldwide just behind Pinterest. More than 63.32% of people on Reddit use the phrase "man" or an adjective.
Reddit users grew from 46 million in 2012 to 430 million in 2021.
48% of Reddit users are in the US, followed by the UK and Canada.
The platform had around 4 million app downloads a month and spiked to 6.6 million app downloads in January 2021, which was the highest number in Reddit history.
25% of US adults use Reddit.
Reddit is 9th most popular social media platform in the US.
How long do Reddit users spend on the site?
Reddit users spend 10 minutes or 23 seconds per visit on average. Average Reddit user has visited almost eight distinct Web pages.
Its overall bounce rates stand at 38.5 per cent, nearly four in ten of those visiting Reddit quit after they have seen just one page.
Congrats on making it all the way to the end of the post. 😉
As you can see, Reddit user analyser can be a very powerful addition when promoting your business on the platform. I recommend testing all tools I highlighted and see which one works best for you.
Want to promote your brand on Reddit ?
Are you looking to promote your brand on Reddit. Check out the Reddit marketing service to reach your target audience. We are the leading Reddit marketing agency out there, so reach out if you want to start growing on Reddit.
Want to learn more? We've compiled another post with the top tools to help you choose the right subreddits to post on. Read it here.