Reddit is the self-proclaimed front page of the internet and has over 5 billion views per month.
It's the 7th largest website in the US and a huge opportunity for savvy business owners and content creators. Are you looking for new ways to position yourself as an expert while reaching an audience with a proven interest in your niche?
Then this guide is for you. It's just too big an opportunity to not have a Reddit approach built into your marketing strategy.
In this post, we'll provide an overview of Reddit and then dive into how you can promote your company on this social network. We'll go over…
How Reddit works & what you should know
An overview of marketing strategy's and things to keep in mind
Actionable tactics you can swipe and start using today
Reddit related marketing tools to make your life simpler
So without further ado, let's jump in! ?
Reddit 101: how Reddit works
Reddit is the world's largest user-submitted social news site. Any registered user can post content they find interesting to any of Reddit's thousands of communities. Every Reddit community is called a subreddit.
And there's literally communities for anything and everything. From communities discussing cute pictures of cats, to communities debating geopolitics.
Users comment, discuss & upvote content on every subreddit. The top-upvoted content gets to the top and is promoted to more and more users. Top content in every subreddit has a chance of getting to /r/all.
This is the true front page of Reddit, and contains only the top content across all Reddit communities. Similarly to other social media channels, the Reddit algorithm helps showing your post to more users if you have plenty of upvotes.
If you want to increase your chances of being seen, buy Reddit upvotes to boost your post to a larger audience.
Before we get into Reddit Marketing, there's one question that keeps popping up…
Is Reddit social media?
Reddit is certainly different from social media sites like Facebook, Twitter, and Instagram, but it still absolutely falls under the umbrella of social media.
The key distinction between Reddit and other sites is Reddit's reliance on communities. Rather than log onto Facebook and scroll through a never-ending, seemingly random feed, Reddit users log on and browse their favorite communities, discussing topics they love and building relationships with others who share their passions.
This focus on community and personalization makes marketing on Reddit incredibly different, and more difficult, than marketing elsewhere.
Now that you've been primed on how Reddit works, let's go into marketing on Reddit…
Things to keep in mind when marketing on Reddit
Reddit is well known for being highly averse to any kind of ads, and that's one of the principles that's made the site a huge success.
Nobody wants to be marketed to.
Any marketing strategy on Reddit needs to be mindful of users. You want to market authentically and from the perspective of a user at all times.
Here are some key points to do this effectively…
1. Join the communities you'll be marketing to
You're not getting anywhere on Reddit if you're not a true and active member.
Join Reddit and become an active member of the communities before you post or comment in a promotional way.
Here's why:
It's really rare for Redditors to trust an account that only posts promotional content, so you need to contribute in different ways before taking on any kind of promotional angle.
When creating your Reddit account, make sure it's under your pseudonym and not a real name.
Then join the subreddits that interest you, and do your best to authentically contribute to them. Don't be a leech.
It may take a few months to build up natural karma and reputation, but it's essential to properly position yourself as a contributor before expecting anything in return.
If you don't have the time to be a true member, a good place to start is to buy an existing reddit account with karma.
These are proven accounts that can give you the social proof you need to successfully run a marketing campaign.
Learn more: Finding the Best Subreddits to Promote Your Content
2. Follow subreddit rules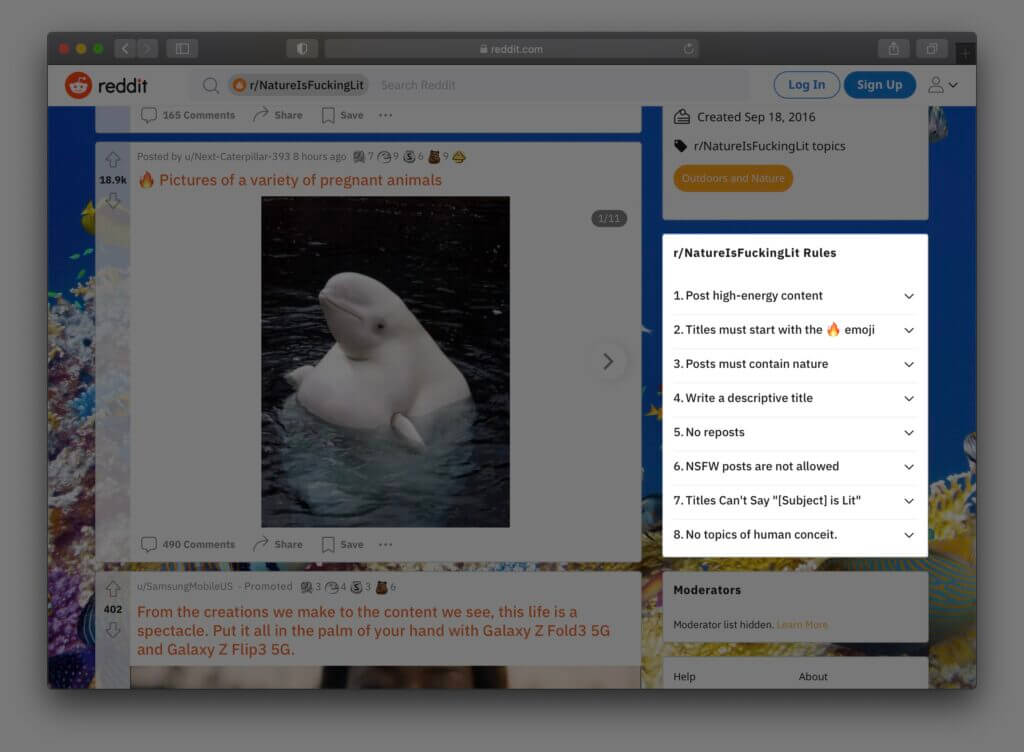 Every subreddit has rules you should be following on the right sidebar.
Anytime you break the rules, you will be banned. Usually mods are strict around these rules, so make sure any post you do clearly follow them.
If you do break the subreddit rules, you run the risk of getting banned in the subreddit, or even worse, banned across the entire site. Tsk. tsk.
3. Avoid direct self-promotion
It's important to note that self-promotion is frowned upon unless you contribute beforehand to the community you are promoting on.
This means that you can't just spam a subreddit with posts about your digital business, especially if it isn't related at all.
Mods will probably ignore or delete these posts regardless of how many times they've been posted before.
Worse still, you won't get any Reddit PR with this method to begin with because your posts are not truly adding value to the community.
Keep this in mind, any successful reddit marketing strategy needs to rely on true value being added to the community it's targeting.
There's no way to get around this, but it's entirely attainable. See how Soar managed to generate 18,335 site visits in 1 day with Reddit.
Read on…
4. Post original content from your perspective
You're a person, not a content machine.
Nobody wants to see a random article with no commentary. Nobody wants to see an e-commerce product page.
Add a lot of personality into any content you put up on Reddit, that's how to stand out and look real.
Advertising-style-copy does not work, you need an authentic, user-first content strategy in order to succeed.
Learn more: How to Avoid Getting Banned on Reddit
5. Give more than you get
The 80/20 rule applies on Reddit.
You should be giving 4x more than you self-promote on Reddit. Otherwise, you'll be branded a shill and users will not trust your account.
Remember, giving on Reddit means leaving meaningful comments, upvoting positive content, and interacting with peers while expecting nothing in return.
6. Write to your audience
Every subreddit on Reddit has it's language, style & voice.
Whereas an average /r/wallstreetbets comment looks like it was written by an ape ?.
The average /r/askhistorians comment needs to be fully cited.
If you are interested in engaging with a community, make sure to understand the traditions and mannerisms specific to that subreddit.
You can do this by browsing the feed and getting comfortable with the lingo before making any contributions.
Learn more: Guerilla Marketing on Reddit
Reddit marketing tactics you should know
Run an "Ask Me Anything" (AMA)
Are you a well known celebrity or brand?
Do you work in a highly interesting or controversial field?
Do you do something really cool or interesting?
You might be perfectly ready to run an AMA on /r/Iama.
This community focuses on promoting individuals doing cool things.
Posters share about themselves and invite people to ask questions. Users ask questions, and it's common for the posters to get a lot of traffic and traction through all the attention they get.
This is a popular way for celebrities, game developers, professionals & other influential people to promote themselves online, heck, even Obama had one!
Use mention monitoring apps
Are you trying to protect your reputation on Reddit? Use a tool like Brand24 or Mention to be notified anytime your product, company or industry is mentioned on Reddit.
Then, swoop in and contribute valuable advice to build your authority and expertise!
Follow the 80/20 rule mentioned above and namedrop your brand when it's appropriate and helpful in the conversation. Want to have experts do this for you?
There are lots of businesses that take care of Reddit reputation management, allowing you to focus on your product while your reputation grows organically online.
Read about Soar's brand mentions service.
Find a product recommendation thread in your niche
A large number of subreddits are in niche's where reviewing and promoting great products is accepted and encouraged.
Look at /r/femalefashionadvice, one of the largest online communities for women to share fashion tips, tricks, outfits of the day & more.
Every week they have a recent purchases thread where redditors share their recent pickups with the rest of the community.
If you're selling one-of-a-kind fashion accessories, this is a great opportunity to throw your hat in the ring and get noticed. To make yourself visible in these kind of subreddits without spamming or posting irrelevant content, just make sure to follow follow the recommendations I've outlined above.
Curious about other subreddits where Reddits are expecting products? Here's a few
/r/ThriftStoreHauls
/r/Frugal
/r/ecycle
/r/Barter
/r/BookHaul
/r/DVDCollection
/r/Flipping
/r/TheArtifice
/r/VintageTees
/r/muglife
/r/frugalmalefashion
/r/FrugalFemaleFashion
/r/DiscountedProducts
/r/MakeupAddiction
/r/deals
/r/DealsReddit
/r/shutupandtakemymoney
Start by adding one or two relevant subreddits to your morning browsing to see if there is an opportunity for your brand to provide value and stand out!
Learn more: What is the Best Time to Post on Reddit?
Demonstrate your solution or expertise
Every business is a solution to a problem.
It's fixing a pain point for someone somewhere.
That's why people are going to shell out money for your solution.
In this method, search Reddit for people describing problems that your product or solution solves.
Here's an example: Let's say you sell ecommerce development services. A great way to prospect for customers is to find questions your potential customers would ask, and answer it for them – either by DM or a comment.
Some questions you can target following this method…
Run paid ads
Paid ads on Reddit can be hit or miss for brands. To get amazing results, you need standout copy and a brand voice that redditors love.
The strategy here is simple
Build a list of communities to target
Experiment with copy/url variations until you get great ROI
But keep in mind, the best Reddit ads are highly personal and speak directly to their audiences.
Oftentimes brands have dedicated Reddit accounts and engage on the target communities they're targeting.
Start a subreddit
If you're building a community-first approach to marketing within your company, starting a subreddit might be a great idea. It's a way for you to stay connected to your customers and get constant feedback and ideas from them. Just remember that running a community is never "set it and forget it".
It's a community and will take lots of effort to keep it running, active & happy.
Reddit marketing tools you should know about
There's lots of tools that can help you market better on Reddit. We covered some of them in-depth in this blog post and this one.
Here's a highlight of some top ones.
Later For Reddit
Post scheduling on Reddit isn't as simple as for Facebook, Twitter or Instagram. There's no single 'feed' where everything goes. Later For Reddit makes the process simple and has great features to make running your marketing campaigns simpler for everyone.
Subreddit Stats
Thinking about crossposting your next submission? Check out SubredditStats before you do. SubredditStats has a handy search function, which will pull up the most related subreddits to the one you've entered. Here's what we got when we put in the /r/travel subreddit.
It's a great addition to your subreddit research arsenal, and has helped me find some subreddits to cross post to in a pinch.
Karmalb
Karmalb is a leaderboard that's similar to the subreddit analysis leaderboards we've reviewed in the past. But this tool focuses entirely on users.
The leaderboards have key stats about the most active users across Reddit, along with karma & age statistics. It's a perfect way to find influencers and top Redditors in your niche.
Soar
Venturing into marketing in Reddit without professional help can be scary.
That's why we started Soar.
It's our in-house team of Reddit marketing experts that specialize in working with up-and-coming digital companies.
We take care of all the technical details and run inexpensive, high-ROI marketing campaigns to help you reach your company grow. In other words, growth marketing for startups done right.
If you're not sure where to start – just give us a call 😉
Wow! You got all the way to the bottom of this blog post ?
Congrats. You're now more prepared to start experimenting and tackling marketing across this social network.
In this blog post, we covered…
Top things you should know about marketing on Reddit
An overview of the high level strategies you should use
Some ideas for tactics & tricks to start out on Reddit with
Tools to make marketing on Reddit much easier.
I hope you found the post helpful. Did we miss anything? Leave a comment below with any questions or ideas!