Social media marketing has become a thing of the past. Everyone's already on Facebook, Instagram, and Twitter marketing their brand.
While it's still an excellent investment to have an active social media presence, you want to try out a new platform like Quora.
Since everyone is doing social media marketing already, there's nothing wrong going against the flow. There are plenty of opportunities waiting outside of the box.
Being a pioneer in something allows you to achieve the most results. Quora is the perfect platform for you to try reaching out to a whole new audience.
Marketing on Quora is easy but delivers quality results. Done right, it can boost your lead generation efforts through raising brand awareness and brand authority.
In this article, the experts at Soar, one of the leading growth marketing agencies in the US, discuss Quora Marketing comprehensively. More importantly, how you can promote your brand to drive sales effectively.
What is Quora?
Quora is an online question-and-answer forum website. Users generally interact by asking and answering questions. Discourse is highly encouraged.
Users debate with other users and try to reach an agreement. The best thing about this is that if you're asking the questions, you have the unique opportunity to hear multiple sides.
Users ask different types of questions on Quora. Anything under the sun is fair game. You can ask philosophical questions to mundane and random queries. With billions of people already on the Internet, one is bound to answer your question.
What is Quora marketing?
Quora Marketing is the act of using the online question-and-answer platform to market a specific company, brand, or product. The best part about Quora marketing is that it appears only to high-quality leads — people who are already interested in the product/service.
Quora marketers redirect the online traffic from Quora to a specific site, usually an e-commerce site or a product landing page.
Quora also acts as an excellent tool for market research. This website provides companies an insight into their target customers' minds. What exactly are the issues that they are facing? Can your product help solve it?
If not, can you tweak your product to do so? By consolidating all the information they need, they can create a better product that's guaranteed to solve their customer's wants or needs.
In addition to redirecting online traffic, Quora also allows companies and brands to demonstrate their knowledge and expertise in the field.
It's not rare to see competing companies answer Quora questions and try to one-up one another. Whoever receives the most upvotes wins as the answer stays on top with the Quora question.
Generally, there are two ways to market your brand on Quora: brand mentions and outbound links.
Read: The ultimate guide to Quora marketing
Brand mentions
By posing your brand as an authority figure in your specific niche, you get to improve your brand awareness.
When your brand gets mentioned multiple times, users begin to think that you're the best in the market. Good reviews and recommendations also work.
Outbound links
Another way of using Quora for marketing is by redirecting the online traffic from Quora to your own website or online store.
Quora marketers must be able to insert an outbound link into their answer without sounding suspicious.
How to promote on Quora without getting flagged?
Quora moderators and the users themselves are always on high-alert for marketers. Their main goal is to make Quora a discourse-heavy and relevant website. Users blatantly marketing their company's products and/or services can affect the user experience.
Get access to Quora traffic hacking case study
Fill out this form to access Quora case studies.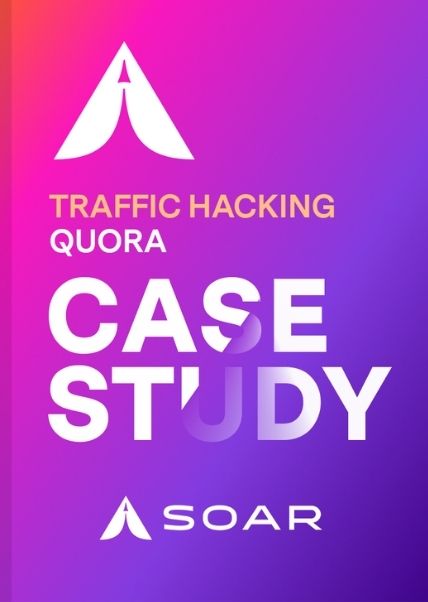 By submitting your e-mail you agree 
that Soar will register your email to the marketing database.
Quora answers that are not relevant to the questions are immediately flagged and deleted. Your Quora account can also be banned from answering more questions.
Here, I have listed some of the best practices on how you can promote your brand on Quora without getting flagged. Successful Quora marketing is doable. You just have to be smart about it.
Set up your bio
Nothing says sketchy and up-to-no-good more than a blank profile. Once you've set up your Quora account, spend some time on your profile.
The first step is uploading a great-looking picture of you. You want a profile picture that makes you look like a professional. This way, users who see your answers immediately think that they can trust you with just a glance.
Write an excellent bio. Every answer you have will show the first 50 characters in your profile, so make use of it. You can put your company name and job role so readers can see your company right away. For your full bio, make sure that you pose yourself as an authority in your niche.
We also recommend adding outbound links to your website to redirect high-quality online traffic. A Quora account with a full bio has a lesser chance of getting flagged.
Stay updated
You can track relevant topics on Quora with the Follow button. By keeping yourself updated on issues pertinent to your niche, you receive new questions in your inbox.
Quora does the market research for you. You receive valuable insights into what the people in your niche are saying.
More importantly, you get a feel of their wants and needs. For instance, is there a void in the market that you can fulfil? Aligning your product and/or service towards a specific "void" can help you uncover a whole new market.
Who knows? You may also learn a thing or two about your industry that you didn't know before. Industry secrets sometimes get spilled inside Quora answers, and you know what they say, knowledge is power.
Answer the right questions
Finding the right questions to answer on Quora is key to a successful Quora marketing campaign. The questions you answer must be: new, has a following, and most importantly, relevant to your industry.
There are millions of questions on Quora that you can answer. However, you would be wasting your time and resources answering everything that comes on your feed.
Choose the questions that will deliver value to your business. You want to build your brand authority in the right industry.
The easiest way to find relevant questions is to type a keyword related to your industry into the search box at the top of the platform.
You want to focus on topics and questions with an organic following. When choosing questions, consider these three tips:
Find relevant questions
Jump on threads with tons of upvotes
Ask new questions
Write answers comprehensively
The quickest way to build your reputation and authority is by comprehensively answering questions. Let everybody know that you are an authority figure and you know your stuff.
Write answers professionally and logically. Don't leave one-liners that add little to the discussion.
Instead, focus your energy on writing the best Quora answer the thread is ever going to get. Show Quora that when it comes to this topic, you're the guy. I find that the sweet spot for a comprehensive answer is around 300-600 words.
You can go longer but make sure that it's still relevant to the discussion. Writing long-winded answers goes against what you're trying to do. Worse, you confuse your reader, and they downvote your answer.
Interact with other Quora users
With Quora, you want to generate a following, a community that believes that you're an authority figure. You do this by interacting with other Quora users.
Comment on their answers, ask questions and just be friendly. Social interaction on Quora is natural as the entire site promotes discourse and discussion.
The best part of this is you can divert their attention from Quora to your own site where you showcase your products and/or services. As you have already posed yourself as a person of influence, trusting your brand comes easier.
Let the experts handle it
As with all online reputation management strategies, Quora marketing can be tricky. The results can go both ways. You can achieve success and beef up your online traffic and reputation…or it goes sideways.
Done incorrectly, your brand/company can be banned from Quora. Advertising too much or spamming links are just some of the most common mistakes that newbie Quora marketers make.
Seeing irrelevant brand mentions and links inside Quora answers can annoy users, earning you a negative reputation.
Simultaneously, Quora moderators regularly check threads to make sure that they're not spammed with outbound links. If you get flagged, you just wasted your resources as these Quora answers are quickly taken down and deleted from the threads.
If you're unsure of your Quora marketing strategy, contact one of the country's leading growth marketing agencies. Soar offers custom Quora marketing packages that guarantee results. We build your reputation in a subtle, relevant, and natural manner.
Contact us now for more information.