"This article is part of our extensive series on cryptocurrency marketing – If you haven't read our Ultimate guide to crypto marketing we recommend you start there!"
The crypto market is filled with a virtually countless number of assets. It can be hard to distinguish them. Some assets even have similar names or, more generally, a very similar brand presentation and use case.
Amid all of these similarities, it can be challenging for one project to stand out from another without some well-thought-out digital marketing cryptocurrency campaign.
So how do you market your crypto coin or NFT with all the tough competition out there?
Good news! Crypto marketing is not as difficult as it may seem. Here at Soar, we've helped dozens of businesses take their coin or NFT project to the moon.
Doing so requires leveraging specific platforms and methods common in digital marketing that we've listed here, and above all, leveraging the crypto community itself for marketing purposes. If a product is good, you can count on crypto enthusiasts to sing its praises.
Bear in mind that marketing your crypto coin is not the same as marketing an ICO. There are similarities, but marketing a crypto coin happens after the launch of your token. This guide explains why you should market your crypto coin and how to market your token, with detailed crypto marketing ideas you can start on today.
Why market your crypto coin or NFT?
With all the crypto coin options and new NFT marketplaces for investors out there, you can't possibly expect to gain exposure without (more than) a little marketing.
Token and digital art projects with widespread remote teams don't have the traditional resources and routes to launch marketing campaigns- and in the crypto market, you'll see that traditional methods aren't always ideal.
You're also up against some stiff competition whatever your use case, unless you are building some unprecedented wunderkind project.
How do you market your crypto coin or NFT?
The process of marketing a crypto coin is not altogether dissimilar from marketing a whitepaper. Like all good tech firms, you are marketing the underlying products and services, which must take center stage in your digital assets marketing efforts.
Crypto investors are a seasoned and weary bunch who will quickly pounce on any loopholes in your presentation. Reputation matters significantly in the cryptocurrency world, so you must do your best to be honest, authentic, and straightforward with the crypto community.
Fortunately, they can also be an incredibly welcoming and receptive bunch who can do part of the token or nft marketing job for you.
Having said all of that, let's jump into some of the specifics of marketing your crypto coin. Here's an outline of the five vital elements of crypto marketing.
How to market your crypto coin or NFT: 5 important steps
1. Community, community, community
There is no more significant make-or-break aspect of a cryptocurrency project than community engagement. The NFT community drives decentralized platforms, and they are most affected by the results of your efforts. If you can latch onto their imaginations, you have a big head start on most other projects in the market.
Of course, being able to grab the crypto community's attention means you have to have a solid product on your hands. You can't sell them on words alone, and certainly not after the several failures and scams they have endured over the years.
A good crypto project will slowly build a community over time, with the early supporters always being the most ardent. Like any social media post, after a certain tipping point, a project can go viral and gain a massive amount of followers in a short period.
But your focus should be on building that early foundation of solid supporters. You will primarily use social media platforms to create this following – which can be arduous but is necessary.
However, with a strong community, you take a lot of the marketing pressure off of yourself, as the community itself will begin to spread the word on your project.
After all, it's in their interest. Keep your reputation with the community good throughout your project's lifespan, and you'll find yourself reaping immeasurable benefits.
2. Keep a steady stream of updates coming, including press releases
Crypto marketing boils down to getting full attention for a solid project. To follow up on the last point about community, you could, of course, build a community – but there would be no retention or growth if you don't have anything to keep them excited.
And the way you keep them engaged about the development of your project is through updates, whether on a blog, social media, or Telegram. You have to show signs of progress and listen to their feedback, as the community is one major stakeholder in the development process.
Keep them informed about how your development tasks are proceeding with weekly updates, and from time to time, have the team speak directly to them for a more personal interaction.
In addition to using social media attention to gain recognition, you should also tap into the crypto media, which has considerable sway on a project. While not every successful project goes through the media route to grow, it is only prudent for you to consider it.
Press releases are an excellent way to keep the general public informed about your company and project developments. These can be expensive, but the exposure you get in return makes them well worth the price.
3. Social media is king in crypto
Most discussions about cryptocurrency happen on Reddit, Telegram, Twitter, and YouTube. These spaces are where the community gathers and slowly spreads the word on the next big project. One name drop of your project in a bigger community can result in a massive flux of users to your Telegram group. You can't avoid using social media.
While more significant content updates like blog posts and press releases will serve well in marketing, social media posts are where you keep the engagement going on a day-to-day basis.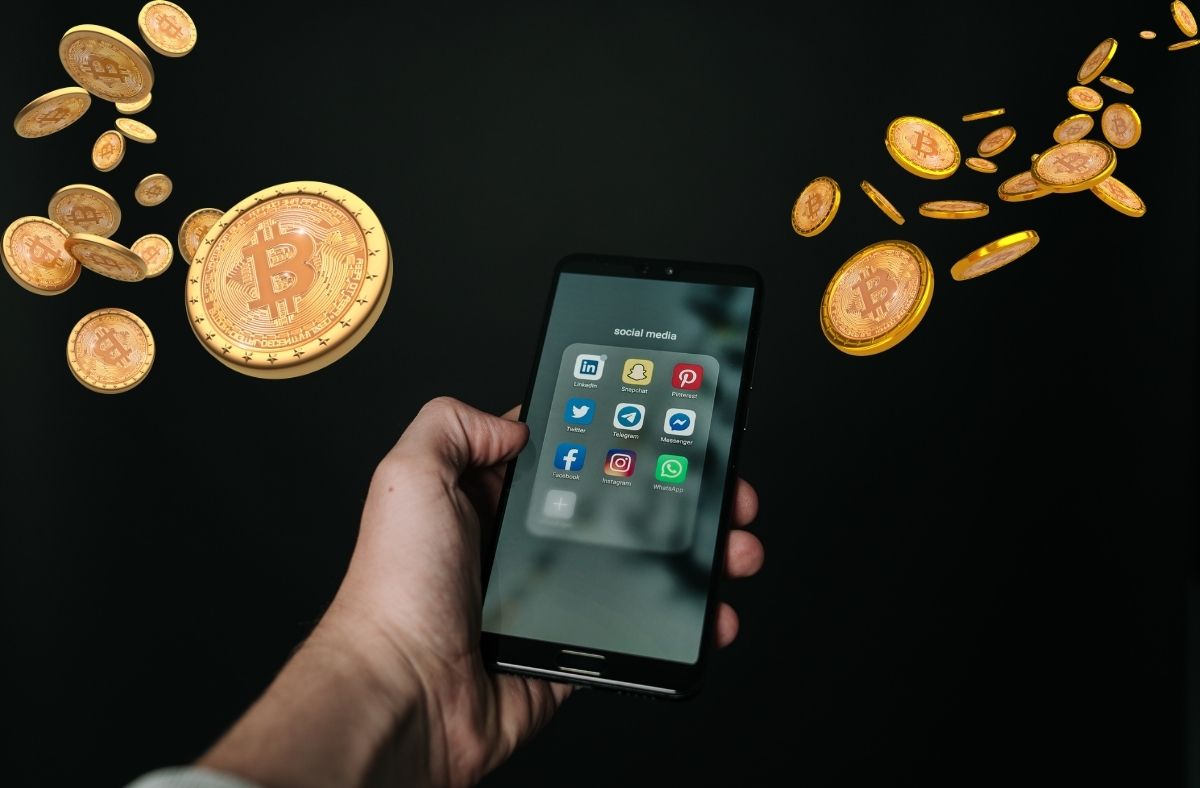 Think infographics, quotes from the executives of your team, numbers, and figures proving the worth of your project – you want bite-sized, stirring thoughts that strike a chord with the community. Of course, there are always memes, which the crypto community can never get enough of.
Influencers also play a significant role in the crypto space, and it's well worth considering talking to them. However, make sure that you work with the right influencers, as here too, your reputation can take hits if you work with "shills."
4. Contests, giveaways, and other social media engagements
So you know that social media is critical to market your crypto coin. But what do you actually do, besides updates and general statements? It turns out there's quite a lot you can do on social media to market your nft idea or nft tokens.
Some of the most popular marketing campaigns on social media have to do with contests and giveaways. You'll frequently see projects airdropping tokens, conducting contests with rewards in the form of the crypto asset, or giveaways for promoting these projects in the cryptocurrency market. These are excellent ideas to attract new users, especially in the early stages of marketing.
Non-fungible tokens, in particular, do well in giveaways and contests. People are happy to receive these unique assets when the niche is flourishing. Plus, you can develop creative ways to tie your NFT market with your platform – like having a project mascot in the form of an NFT.
Don't rely on these forever, though, as they can grow stale and can tarnish your reputation in the long run. In the medium to long term, focus on video explainer series, weekly platform usage statistics, and content related to your NFT craze to keep the buzz going.
5. Work with other projects or nft marketplaces in the industry
One often underutilized means of marketing cryptocurrencies is a collaboration with other projects. The very nature of the cryptocurrency industry encourages collaboration, and there is a lot to be gained in both development and marketing by joining with other digital artists.
By integrating other solutions built by other projects and helping them with your solutions, you can leverage two user bases. Success becomes somewhat co-dependent, and other communities will cheer for your development.
Your collaborators will be happy to promote your development efforts on their social media handles. That provides excellent exposure and stirs discussion within their community, great for boosting a digital ledger or nft marketplace!
Marketing your crypto coin or NFT is vital to success
As you can see, marketing your crypto coin is not as difficult as you might imagine. It does take a bit of effort, but there are hard and fast rules you can follow to maximize your exposure.
Reaching out to a crypto audience is strongly related to how you can connect with them and keep them engaged with your project. It is an ongoing, ever-evolving process typical of crypto nft marketplaces as a whole. Stick to the points listed above, and you should do well. And above all, make sure you have a solid application to work with!
You could also hire a cryptocurrency marketing company, which would significantly reduce your workload so you can concentrate on your primary task, which is building your platform.
If you'd like assistance marketing your crypto coin or NFT, read on to see how we hacked 18,335 site visits in one day with Reddit, or schedule a call with Soar for help with everything from content marketing to general marketing strategy sessions.
You can expect leaps in your community and supporter numbers with our advanced marketing team & techniques!
That's all we have for our article on marketing on your new crypto assets – get out there and build your following!