If you're here, you probably have probably heard about growth marketing and how it can help with exponential business growth.
The interest in growth marketing is on the rise worldwide because it is the kind of marketing that actually gives those results your business needs. But what is a growth marketer? And how can he help you effectively achieve your business goals?
If those are the questions you need answers to, you've come to the right place. In this article, we are going to understand those concepts better and look at nine top growth marketers you should follow in 2022. So, let's dive in! 
What is a growth marketer? 
Growth marketers are also commonly known as growth hackers and are those marketing professionals who use a mix of CRO, user experience, content marketing, Reddit or Quora marketing, SEO, email marketing, paid search, and paid social to create a marketing strategy to hack your business growth and help you achieve your goals.
These professionals are more focused on the strategy side of things and they use data from various testing and experiments to create growth marketing strategies that actually convert.  
Here are some of the key duties of a growth marketer 
Conducting A/B testing 
Planning and optimizing paid ad campaigns; 
Updating creative copy 
Creating and running referral programs for hacking growth 
Creating and optimizing email campaigns  
Studying the data and making updates to impact the overall funnel 
Creating detailed progress reports for key stakeholders 
A growth marketer should also possess various other basic technical skills like knowledge of marketing automation, paid advertising, copywriting, and some basic design skills.
He/she should also have outstanding analytical skills, a creative mind, the ability to prioritize, and some experience validating ideas through data and conducting experiments.  
Now that you have a clearer idea of what is a growth marketer, let's look at nine growth marketers who you must follow in 2022. 
9 growth marketers to follow in 2022 
If you're interested in growth marketing and are wondering how to become a growth marketer, we recommend starting by following some of the growth marketing gurus for their best tips. Here are nine powerful growth marketers you need to follow and learn from in 2022: 
Joanna Vaiou: Expert at Search Engine Optimizing (SEO) 
Joanna is the growth marketer to follow to learn all about Search Engine Optimization. She started her career as an SEO project manager for architecture firms and built from there. She is known in the industry for her formidable ability to optimize SEO for niche industries and is a master of all things Google. She is currently living the digital nomad lifestyle and uses her social channels to educate and share her knowledge.  
If you want to learn about how to become a growth hacker, we recommend that you follow her on Twitter for loads of SEO tips and tricks. She also provides in-depth case studies of her work to showcase her results in a data-driven format. 
Check out some of Joanna's case studies and learn more about SEO.
Jordie Black: Content Marketer Specializing in B2B & SaaS 
Jordie is a wiz when it comes to content marketing. She is currently London-based and works with small business owners and entrepreneurs to help them hack their growth and reach their goals. She believes in "working smarter, not harder" and has achieved success by following this motto.  
This content marketing wiz shares tips on content marketing on her Twitter handle and you definitely must follow her to learn about the latest trends in the industry. She also offers consulting services that include copywriting and blogging boot camps.  
Follow Jordie on Twitter and learn more about content marketing trends from this industry leader. 
Katelyn Bourgoin: Customer Research Pro 
Katelyn is definitely one of the growth marketers to follow if you are an entrepreneur. She is a customer research pro and started her journey as an entrepreneur herself. She uses her blog to share her vast knowledge and give actionable advice for marketers without any sugar coating.
She also leads various workshops teaching companies how to hack their growth by being customer-obsessed. She also offers online-courses teaching teams to discover their target customer and star product before investing time and money into the business. This saves them from creating and marketing the wrong product to the wrong audience.  
Learn more about Katelyn's Customer Camp and take your step towards becoming customer-obsessed.  
Ana Santos: Master of UX Design and CRO 
Ana is another great growth hacker to follow if you want to learn how to become a growth marketer. Her expertise lies in UX design and conversion rate optimization. She provides actionable steps to help any business create and grow a loyal customer base in a way that allows you to stay true to your brand.  
Anna offers various courses on highly technical aspects of marketing, including heuristic evaluations (a method used to identify potential usability issues in software). Her blog is another great platform to follow for tips on how to understand your end-users and build that loyal customer base for your business.  
Check out Ana's blog and coaching programs to learn more from this growth marketing guru. 
Brian Peters: Critical Thinking and Strategic Leader 
Brian is one of the growth marketers to watch out for. His knowledge and experience with marketing strategy, partnerships, startups, and more is extremely valuable. He currently heads the strategic partnerships for Shopify and is brilliant at what he does.  
If you want to learn how to become a growth marketer, Brian is the marketer to follow. He uses his social channels to give his followers detailed explanations on how to achieve concrete marketing goals. He approaches the subject from a holistic path, making it relatable for a wider audience.  
Learn all about Brian's growth marketing approach through his blog and newsletter here. 
Asia Matos: Expert at Startup Marketing Strategy 
Asia is the founder of DemandMaven, an agency that serves early-stage SaaS companies with rapid growth. If you want to learn all about strategy, Asia is one of the growth marketers you absolutely need to follow. She can inspire your next campaign, or help you create a solid strategy for your startup, setting you up for success.  
We recommend following her blog as it is filled with data-driven articles and case studies that will teach you through practical examples. Her Twitter feed is also worth following for quick takeaways and industry updates.  
Check out DemandMaven to read case studies and gain more valuable insights into Asia's work. 
Elise Dopson: Expert at Growth Content  
Elisa is one of those growth marketers who focuses on a solid content strategy to help grow B2B SaaS and marketing businesses. Her strength lies in the creation of data-driven, well-articulated whitepapers that set her apart from every other content writer in the field. If you're an aspiring content marketer, Elisa is definitely the person to follow.
She is known for her B2B content writing experience and has worked in the growth marketing departments of companies like Leadfeeder, Databox, Single Grain, Content Marketing Institute, ConversionXL, and Smart Insights. Her Twitter feed is both entertaining and educational, so we highly recommend following her to keep yourself updated on the latest trends in the industry.  
Learn about how Elise built a six-figure writing business by the age of 21. 
Alicia King Anderson: Storytelling and SEO Strategy 
In the growth marketing community, Alicia stands out because of her unique voice. She is a brilliant storyteller and knows how stories can be used to successfully capture the attention of audiences. Storytelling can also lead to higher conversion rates and when coupled with a strong SEO strategy, the results can be amazing.  
Alicia is currently getting her Ph.D. in Mythological Studies at Pacifica Graduate Institute. She also puts out valuable content on SEO strategy and storytelling on her blog. We recommend following Alicia to learn about her unique approach to growth marketing.  
Dani Hart: Sustainable Growth Leader 
Dani is one of the few growth marketers who mainly focus on creating a sustainable marketing strategy. Her expertise lies in creating strategies that are robust and resilient to prevent burnout in the long run.
She is also known for her abilities to help companies determine whether they have achieved the right product/market fit, which is something absolutely required for increasing return on investment. We recommend following her social media for a mix of informative and uplifting content in her field of expertise.  
Follow Dani Hart on LinkedIn for more insights into sustainable marketing. 
 Growth marketers vs growth hackers
Growth marketers are also called growth hackers. However, some experts see a difference between these two positions. Let's take a look at the main differences and who you should hire for your next project.
Growth marketers
Growth marketers focus on sustainable long term growth by combining tailored marketing campaigns on relevant marketing channels. Growth marketers tend to still use some aspects of traditional marketing to accelerate growth.
They are very focused on branding and delivering the best customer experience possible. This might be more time consuming and can lead to missing on some important metrics to follow.
Growth marketers understand the process and they usually go with a step-by-step approach, which is in most cases a very hard work and there no no shortcuts to that. It is also due to their aim to deliver a long term sustainable growth.
A very helpful and favorite tool is called growth marketing funnel a.k.a. AARRR, which helps marketers tackle their activities across various channels.
Get a free template!
Fill out this form to access the growth marketing funnel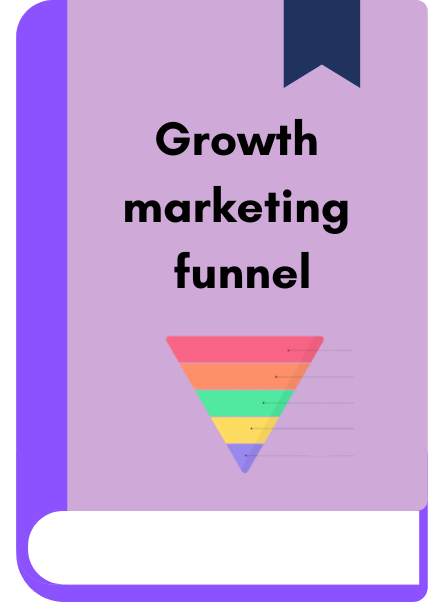 By submitting your e-mail you agree that Soar will register your email to the marketing database.
Generally, growth marketers are bias towards business and people and many of them might not have much of a technical understanding.
Sustainable growth
Branding
Hard work
Business oriented
Growth marketers are a new growth marketing managers, according to many marketing experts. Hire a growth marketer if you want a sustainable long term growth of your business.
Growth hackers
The opposite of growth marketers, growth hackers aim for a rapid growth of the company. They follow data, tactics and strategies that drove the best results to other companies within the same industry and they replicate it with the goal to achieve the best results.
Similarly to the previous point, growth hackers tend to stick to data and tactics rather than promoting the whole brand itself as growth marketers do.
Growth hacking is full of hot stories such as hacking Craigslist to get a free listings for Airbnb or Dropbox referral program. These are the stories that people love to hear, they get tons of attention and are great pillars for more experiments. Read about both stories here.
Growth hackers are a combination of growth marketers and full-stack developers. They usually have a deep technical understanding and have a bias towards technology to drive their results.
Rapid growth
No branding
Hot stories
Technology oriented
Conclusion
These are 9 growth marketers and growth hackers you should follow in 2022 if you want to take your knowledge to the next level. I personally follow all of them and I always get inspired when I see something they shared.
We feel bad that we didn't include more names on the list, se we will update the list with more names soon. Stay tuned.
Want to hire your first growth marketer or a full growth marketing team? Schedule a call with our team of experts at Soar and get the ball rolling.