Getting your startup to take off is every entrepreneur's dream, and the marketing strategies you implement will play a crucial role in achieving that success.
Doing a quick internet search yields the same old results – improve your site's SEO, focus on content marketing, target social media, work with influencers, run Google ads, try email marketing, and so on.
While these above mentioned methods are tried and true, everyone is doing the same thing, and it's easy to get drowned out by established companies with a larger budget.
Why going beyond these strategies is critical for startup marketers
As a startup entrepreneur, you're expected to get your small company to flourish even with a limited budget. After all, startups, by definition, tend to be shoestring operations.
And when you're faced with the challenge of growing a company with limited resources, getting creative with your marketing strategies is crucial.
How to market a startup business creatively
We're not telling you to ignore conventional digital marketing strategies. Having your website optimized for search engines is important, and so is promoting on social media and building relevant content.
In fact, we recommend that you take care of these foundations before exploring more creative marketing techniques.
But at the same time, we recognize that having a great website, active social media accounts, and even a solid content marketing plan may not be enough these days, especially in the face of tough competition.
In the age of growth hacking and short attention spans where startups have to compete with each other for paying customers and for things like funding and coveted internet space, settling for a basic marketing strategy would cost your business more than you think.
So, what do we recommend?
Let's say you already have most of the following taken care of:
A well-designed website optimized for search engines
Landing pages that are optimized for conversion
A high-quality blog with relevant content
Active social media page/s and a solid social media marketing campaign
An email marketing strategy and a robust mailing list
As we've mentioned earlier, chances are high that these may not be enough to get your startup to take off.
There are probably similar companies that target the same group of people with a bigger budget. Because of this, competing against these companies within conventional avenues is terribly difficult.
The solution? Exploit avenues that your competitors may have overlooked.
Running campaigns within unconventional platforms is one of the easiest ways to give your startup an edge, provided that your target audience is present in these platforms.
Whatever niche your business may be in, there's likely going to be at least one hack below that will work well for you.
Which of these hacks is right for your startup?
When it comes to creative startup marketing, half of the battle is finding out which avenues align with your business goals the most.
To select the right platform to add to your arsenal, you have to establish a product-market fit. This allows you to zero in on who your target audience is and where they spend their time online.
Remember: the main objective of these hacks is to get your business in front of the right people — something that would be arduous to pull off if you relied on conventional methods alone.
If your marketing budget permits it, we recommend going after all the platforms that are relevant to the consumers your startup wants to reach. Running multiple marketing campaigns simultaneously to target more customers will help you grow your business in the long term.
But if the budget is tight and your resources are minimal, there's nothing wrong with exploring one hack at a time, either. At the very least, however, you should determine the platform that would enable you to reach the most number of people and emphasize your value proposition as a company.
Startup marketing hacks you should explore
Moving forward, we looked through some of the lesser-known digital marketing hacks that can help your small business gain visibility and potential clients. These are what we found.
#1 Market your business through podcasts.
Podcasts are among the top consumed media in the United States. With over 1 million active podcasts and more than 88 million American listeners, it's a great avenue for promoting a business.
In fact, 54% of people who listen to podcasts are more likely to consider buying a product that's advertised in an episode.
These numbers are continuously increasing, with podcast listenership predicted to rise as more and more people become more aware of different podcast platforms.
Finding a podcast that's servicing your niche and advertising on there is a great way to build brand awareness by catering to an audience that's more likely to relate with your brand.
A more subtle approach would be requesting to get featured as a guest on a podcast where you're able to share your expertise on relevant topics and demonstrate how your brand offers solutions to a problem, effectively advertising your product or service in the process.
Add YouTube to your startup marketing strategy.
Digital marketing through YouTube is still either overlooked or underestimated by most business owners. Videos are a great alternative to blogs or written material.
In fact, 72% of consumers report that they would prefer learning about a product or service through video.
Research also shows that including a video on your landing page can increase conversions by up to 80%. Additionally, having a YouTube channel where you share informational tidbits can boost your authority in your niche.
YouTube promotion is definitely in place here and you should consider it if you want to grow your customer base and attract new ones.
There's a variety of video formats you can choose from, including:
Explainers
Product reviews
Tutorials
Vlogs
Interviews
Supplementing your blog content with videos on YouTube is a great way to give your company more opportunities to be noticed by customers.
The views and subscribers a channel generates can be funneled and converted into loyal customers. Moreover, a YouTube channel is free to set up and only requires creativity to get the ball rolling.
Check out Reddit: The unsung social media hero.
Marketing on Reddit is talked about less since business owners have achieved varied results on the platform. But as with anything else, Reddit promotions are largely about your targeting and content.
Reddit is not your typical social media website. It's a social news site with a strong emphasis on user-generated content and discussion.
Users are free to create communities (called subreddits) that are focused on a singular topic; it could be games, movies, sports, jokes, life lessons, psychology, animals, or even dating. The list goes on and on from normal to witty to weird and unexpected subreddits – i.e., r/BreadStapledToTrees.
The vast number of Reddit communities gives you many chances to serve your niche by contributing useful content to a relevant subreddit. This option's more complicated, but you can also start your own subreddit dedicated to discussing and showcasing your product or business in a way that adds value to users.
Reddit marketing ideas
It's not hard to come across users promoting their blogs and websites on Reddit. Some even post reviews of their product to pique people's curiosity.
Another trend we see frequently involves startup founders building an audience by chronicling their product development journey on a relevant subreddit, therefore accumulating curious onlookers and sentimental supporters in the process.
There are a bunch of free tools you can use to improve your Reddit campaigns. Of course, you can also enlist the help of a reliable Reddit marketing company like Soar to do the hard work for you.
With 97 million page views per day, there is no doubt that Reddit is one of the most promising-yet-underrated tools an entrepreneur can use to reach a large audience.
Still not convinced? Check out how we harnessed Reddit's power to generate 18,335 visits in 1 day for a client.
Download Reddit case studies
Fill out this form to access Reddit case studies.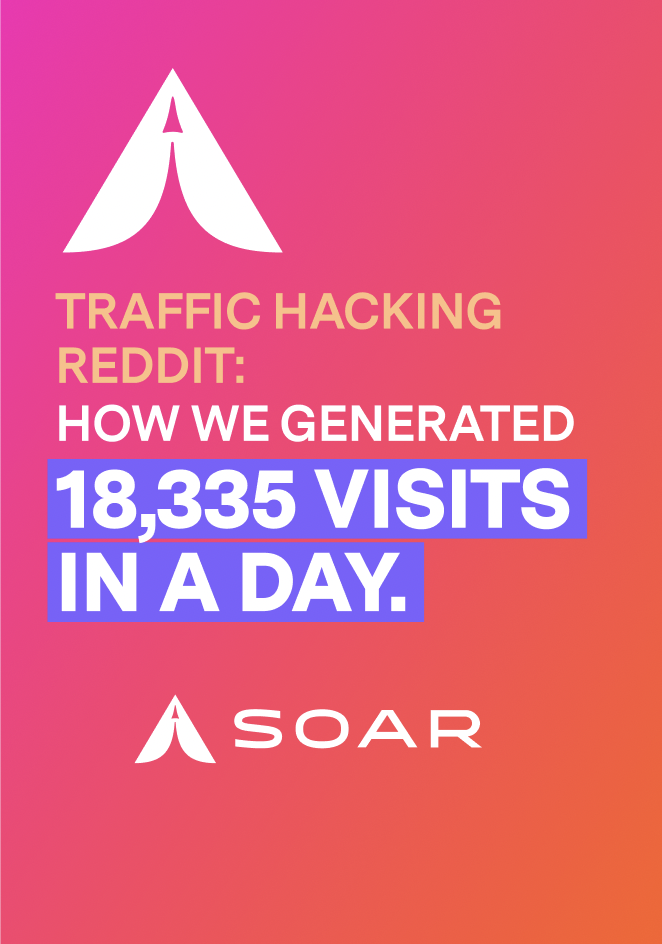 By submitting your e-mail you agree 
that Soar will register your email to the marketing database.
Advertise your startup on WhatsApp.
The world's number-one messaging app is still highly underrated as an innovative marketing tool. With over 1 billion users worldwide, WhatsApp is a goldmine that remains largely untapped.
Its acquisition by Facebook in 2014 means WhatsApp has access to one of the largest online audiences.
A particularly useful feature is the ability to link your Facebook business page to your WhatsApp number through the ads manager.
With the click of a button, customers can engage with Facebook ads that will direct them to your WhatsApp Business account. This makes it easier for small businesses like your startup to engage with their audience.
WhatsApp is a great avenue for direct advertising. You can collect potential customers' contact information through sign-ups or requests on social media, emails, and articles and send a mass message.
You can also create groups in which you share information about your product. What makes WhatsApp unique is that consumers have to be willing to give you their contact to message them.
Once that happens, you'll be able to market to people directly. As such, converting them to loyal customers is less difficult.
Don't sleep on Quora
Quora is a great website to promote different products. However, it works particularly well to showcase your expertise and establish authority as a startup founder, marketer, or entrepreneur. Think of it as both an extension of and a companion for your blog.
On Quora, you get the opportunity to produce content that serves as a testament to your skill and competency. But more importantly, its Q&A format means you can write pieces of content that directly address a need or query for the very people you want to form connections with.
Ideas for Quora
If you already have a blog with lots of useful content, you can repurpose them into shorter chunks of text and use those as answers. But if you'd rather focus on other things, you can also choose to delegate Quora marketing to the experts.
Another great thing about having lots of Quora answers in your arsenal is you can easily repurpose them into long-form content for your blog. Like Reddit, you can also share your experiences as an entrepreneur on Quora to gain a wide audience of people interested in what you do.
It's easy to target people who are looking for what your startup has to offer. All you need to do is find relevant questions, topics, and spaces, and then build a solid presence within them.
At 590 million unique users per month, it's certainly a promising platform to add to your usual rotation of social networks.
Key takeaways for the startup entrepreneur
Following the usual digital marketing advice is a no-brainer, but once in a while, you have to break away from the mold and carve out your own path, exploring and discovering new cost-effective ways to reach consumers.
Although this might not guarantee a clear path to success, it will help you figure out what works for your startup and what doesn't. It also gives you access to avenues with little to no competition, therefore giving you a good start in creating brand awareness.
And just like that, you made it to the end of this article!
Check out the rest of our blog to learn more about startup marketing and how you can best give your growing company a fighting chance in today's hyper-competitive market. This article on the best marketing tactics on Reddit is a great start.
Looking for something less about marketing and more about general entrepreneurship? We've recently started a Startup Morgue series where we talk about failed startups and what we can learn from them. Check them out!
Conclusion
These are the top digital marketing hacks in 2022. You digital marketing efforts should be generating leads and improve your overall metrics. I highly recommend you working with a growth marketing funnel, also known as AARRR pirate metrics.
Establish a custom digital marketing strategy for your business and don't just copy some you found online and feel like it might work for you.
Remember to work on your SEO strategy too! Detect the most relevant keywords for your business and implement them into your content marketing efforts.
Your marketing channels should be including several social media platforms, where your potential clients can find you and engage with you.
By following these things, as well as many other tips, you will definitely be seeing great digital marketing results.
If you need to grow your startup with proven growth marketing strategies, reach out to us. Schedule a call with our internal experts and find out how we can help you.