Content marketing is one of the most powerful tools for businesses in 2022. As you may have heard, content is king, and good content is what leads to ultimate success.
But how do you know what qualifies as good content?
How can you tell if your content marketing efforts are working?
What is the right content marketing strategy?
As a new entrepreneur, these are things you should get clear on before starting with your content creation process.
If you need guidance to understand the importance of good content and tips on creating your content marketing strategies as a startup, read on as we are going to break it down for you in this blog post. 
Why is content marketing important for startups? 
Content marketing is one of the most impactful ways for a new business or an existing business to create a reputation for themselves, drive brand awareness and engage their target audience.
Startups need to consider that according to data revealed by HubSpot, 82% of marketers reported that they actively used content marketing in 2021. It also found that 47% of buyers engaged with about three to five pieces of content before reaching out to a sales rep.
This evidently highlights that your content will be responsible for introducing your business to your target audience. If you don't have the right kind of content for your audience, you may end up losing business to your competitors who have invested in quality content.  
Strategically creating content for the right keywords will also help you rank in targeted Google searches and will boost your website visits. This will ensure that your business is being discovered by the right target audience who may be interested in your product or service.  
Quality content is what will set you apart from your competitors and increase your startup growth. So, make sure you focus on content creation and boost your content marketing efforts to reach your target audience.  
What can be classified as good content and what tools will you require for content creation? 
We've mentioned good content multiple times in this article already. But what makes content good? Here are some things you need to keep in mind during the content planning and content creation phase: 
Good content is the kind that educates, engages, and/or entertains your target audience 
It should be compelling, accurate and should deliver the value it promises  
It should be able to anticipate and answer questions that may arise in the reader's mind 
It should be in a format that makes it convenient to understand by the audience 
Additionally, there are various content marketing tools that are available to help your content marketing efforts. You can use them to maximize your productivity and grow your startup.  
It will take time to establish a successful content marketing strategy for your startup, but it's definitely worth it.
Powerful content marketing strategies for startups in 2022 
Now that you know why content marketing is essential for startups and the characteristics of good content, let us take a look at nine powerful content marketing strategies for startups to use in 2022: 
Research your target audience and create a targeted content strategy 
The effectiveness of all your content marketing tactics relies on how well you know your target audience. Hence this is one of the most important things you must do in order to ensure success.
The best way to understand your target audience is by conducting research. If you already have data available through your Google Analytics, make sure to check the data and see what devices your audience logs in from, where they are located, and what existing pieces of content are getting the most traffic.
If not, you may want to identify your target audience and get clear on who they are, where they live, and what their likes and dislikes are. Invest some time and resources to gain deeper insights as this will help you create the right content plan.  
Once you have gained greater insights into your target audience, you should start by researching various keywords in your niche using a keyword planner tool like MOZ, SemRush, Keysearch, etc.
Create a list of all potential keywords in your niche and related keywords for each. By researching these keywords, you will be able to come up with ideas for various content pieces for your company blog.  
Focus on guest posting 
While creating your content plan, you should also create a plan for guest posting on reputable websites, especially if your website is new.
By guest posting on quality websites, you will be able to build links and authority for your website which will help you rank on search engines for desired keywords. Moreover, guest posting also helps bring in referral traffic and increases your brand visibility.  
In order to do so, you may want to create an excel sheet with different reputable websites in your niche. Make sure to study each platform to understand their style of content.
This will help you come up with story ideas that you can pitch to them that have a high chance of getting approved. Make your notes in an excel sheet so you can track your progress each month.  
Capitalize on industry trends and hot topics 
One way to gain traffic and come up with new relevant content ideas is by studying industry trends and creating content around those hot topics. Tools like BuzzSumo are perfect to learn about trending topics in your niche.
Using these insights to create various content pieces can be an extremely important content marketing tactic and can help you reach your target audience easier.
By creating quality content around such trending topics, you can increase your chances of going viral and increase your brand visibility exponentially.  
Another way to monitor trends is by using social listening tools offered by platforms like SproutSocial to learn about what your target audience is talking about across various social media channels.  
Experiment with different content forms 
When creating your content form, keep in mind that blog posts are not the only kinds of content you could create for your business. Consider creating engagement quizzes, email challenge series, podcasts, reports, whitepapers, webinars, and more.
Using a mix of these formats can help provide variety and in-depth information to your target audience and can be a great content marketing tactic to establish authority in your niche.
Some of these assets can also be used as a lead magnet to get your target audience to sign up for your newsletters, and help you increase your return on investment. 
Another thing you must keep in mind is that visual content is extremely important. Make sure your content plan has room for infographics, charts, and other kinds of visual content as it can be extremely beneficial.
The Sumo team was able to increase their traffic, conversions, and revenue by up to 400% by introducing infographics to their content strategy.  
Be consistent with your content 
Consistency is key for the success of literally any venture. The same applies to your content marketing efforts. You need to create a schedule that helps you create the right kind of content for your target audience consistently.
This does not mean that you need to create content every day! It just means that you should commit to creating one blog post a week, one podcast every two weeks, a quiz every quarter, basically whatever works best for you.
Posting at least once a week on your blog is beneficial as it helps you create a pool of content and establish your authority. The more content you put out, the more chances for you to rank and bring in that targeted traffic.  
We also recommend sending out a newsletter once a week or once every two weeks to update your subscribers about your new content, trending topics in the industry, and the promotion you may be running.  
Use social media to promote your content further 
Social media is a great tool that you can use to further your content marketing efforts. Usually, it is beneficial to coordinate your social media marketing and content marketing efforts and increase the return on investment.
We recommend sharing your new blog posts on various relevant social media channels like Facebook, LinkedIn, Instagram, Pinterest, and TikTok where applicable. This can help drive traffic to your blog and website and can lead to increased leads and sales.  
While promoting your blog posts on social media, you can choose to share a snippet from the blog post to intrigue your target audience to read more, share key takeaways or create graphics or little video presentations highlighting the main points mentioned in the post.
The more engaging you make it, the higher chances that your target audience will follow through and click on your link to learn more.  
For blog posts that are doing well, you may also consider using paid promotions to increase reach and capitalize on the momentum.  
Influencer roundups and quotes 
Identify various industry influencers and mention them in a post related to your niche. By doing so, you increase your chances of getting the post reshared and gaining more visibility.
For this, you can choose to create a roundup post or ask them for quotes on various industry-related topics.
For example, if you are a fashion brand, you can create a blog post on '15 fashion influencers you should be following for daily outfit inspiration', or you could do a post on 'Upcoming summer fashion trends to look out for in 2022' and use quotes from different influencers in your story.  
Cover niche topics 
In order to rank on search engines quicker, you want to cover niche topics that have not been written about widely in the industry. This will ensure that you have lesser competition and it will also help showcase your expertise in the niche.
For example, if you are a digital marketing agency, you could target a broader keyword like 'digital marketing agencies' which would have higher competition, or you could go for 'digital marketing agencies for startups that will have lesser competition. Niching down can definitely help you increase your chances of ranking quickly.  
Starting a digital business can be very challenging but using proven techniques and going step by step instead of finding shortcuts will definitely get you there.
Pay attention to technical SEO 
If you are setting up a new website, you definitely want to pay attention to the technical SEO side of things. This refers to various website and server optimizations that will ensure that search engine spiders crawl and index your website more effectively, which in turn helps with organic rankings.  
Here are some things to consider while checking the technical SEO of your website: 
Use SSL certificate 
Ensure that your website is mobile-friendly 
Check site speed and take measures to improve performance 
Fix duplicate content issues 
Create XML sitemap 
Enable AMP if necessary 
Register with Google Search Console 
Content marketing strategy done right
The goal of your content marketing is most likely to reach your target audience, increase the brand awareness / online visibility and bring more traffic to your website, right? To do so, you need your own content marketing strategy.
Get inspired from your competitors, but never just copy stuff and not personalize it to your business and its audience.
Getting inspired by your competitors is one of the most common content strategies out there and in my opinion, one of the most successful ones. To help you understand it better and give you the first push, here are a few questions to ask yourself:
What content marketing strategy are my competitors using?
What are they doing better?
What am I doing better?
How can I get in front of them?
How much traffic do they get from content marketing?
Start by answering to these questions and you should get a better understanding of what your competitors are doing and what you could / should improve, in regards to your content marketing strategy.
My next recommendation is the user generated content (UGC). User generated content is a brand-specific content created by customers. The right approach for you might be to take advantage of Reddit marketing and engage with your audience on Reddit.
Download Reddit case studies
Fill out this form to access Reddit case studies.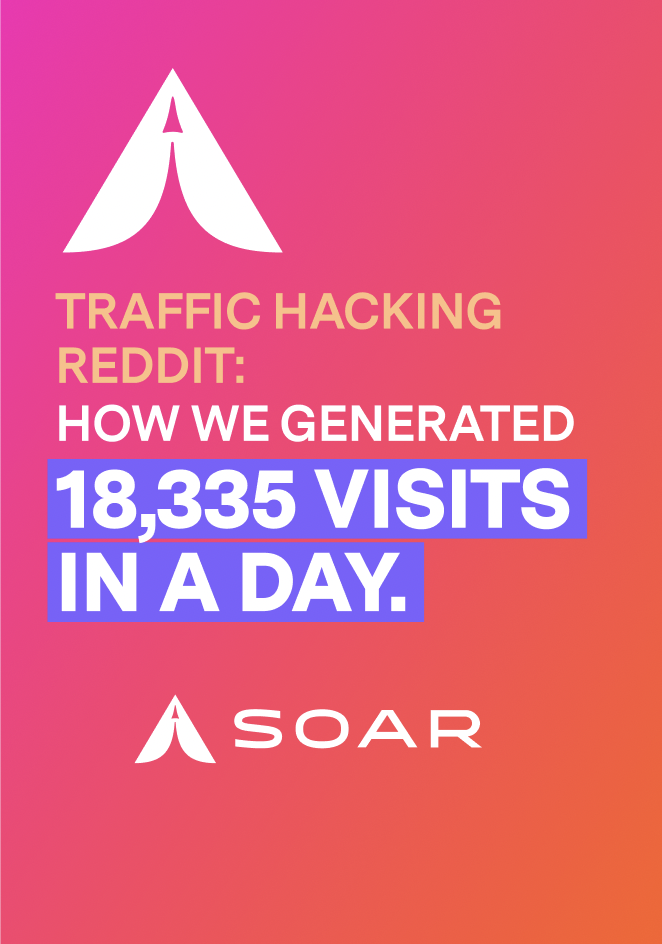 By submitting your e-mail you agree 
that Soar will register your email to the marketing database.
The platform is underestimated and has tons of potential to develop a successful content strategy for your startup. By doing that, you will also improve your social media strategy as Reddit is considered as a social media platform.
Additionally, you can implement very similar strategy for marketing on Quora.
Read: Reddit marketing for startups
Our content marketing strategy is part of our overall growth marketing strategy. In translation, we are not simply producing content just for the sake of doing it, but we create content that is highly relevant to our business, brings value to you and is easy to read / understand.
Read: What is growth marketing?
Need help with your content marketing efforts? 
The best way to ensure results with your content marketing strategy and to improve your return on investment (ROI), you should consider working with a specialized digital marketing agency.
We at Soar helped a new business hack 118,335 site visits in one day with Reddit and content marketing strategies. Schedule a call with our team and learn how we can work together to guarantee your success.