What is content optimization?
Content optimization is the method of ensuring that the content style is such that allows it to reach the most massive target audience possible. The target audience also needs to be relevant to the niche. This is done by certain practices like using associated keywords, adding meta titles and tags and more.
Why use content optimization tools?
● These tools increase the content's visibility in search engines.
● Improves the content's relevance to the target audience.
● It eases the process of looking for focus keywords.
● Eases strategizing and planning your content layout.
● It helps to find the right balance between longtail and shorttail keywords.
Let's discuss the 5 best content optimization tools for SEO –
Yoast SEO has all the features you would expect out of a content optimization tool.
It allows you to –
● Firstly, conduct the readability test.
● Secondly, optimize Keywords.
● Thirdly, preview pages on Google, Facebook, and Twitter.
● Fourthly, it provides Internal linking suggestions.
● Moreover, it optimizes content for specific keywords.
● Lastly, it provides metadata for search engines to better understand your content.
The software works well with most of the features that we listed; however, you might find yourself having specific difficulties like:
● Slow website loading.
● Dealing with bloated codes.
● Lack of features for controlling the structure of your site.
You can access the free version by merely visiting the site or take the premium version that unlocks some nifty features. However, with my experience, you should have plenty of features to get your work sorted using the free version itself.
Squirrly has a beautiful website design and aesthetics that are not given much importance to, usually in such tools. Apart from its captivating design, it's utility is no less. It is an SEO plugin that provides many features, such as:
● Keyword Research.
● It provides Inspiration box to take inspiration from the content that is trending on the search engines.
● Lists down relevant industry-related blogs to keep you updated in your niche.
● SEO Live Assistant.
● Warns you if you're over-optimizing your content- Keyword Stuffing.
● Helps with Google Analytics set up support.
The best content optimization for learning about what keyword your competitor had visibility for on Google's search engine. It's research tools are divided into different groups:
● Advertising Research –Shows competitor's PPC ads.
● Organic Research – Shows keyword ranking on Google.
● AdSense – Finds the advertisers and the publishers.
● Backlinks – Helps you understand who is linking to you/your competition.
● Keyword Research – Lets you find suggestions of keywords that can be used in website optimizations.
The software is excellent to use and provides many benefits; however, there are certain limitations that you must be aware of, too, to asses if you want to go ahead with it. Some of these are –
● High pricing if you are an individual entity who is just starting.
● Lack of support for the organization of content and list management.
● Absence of geographical filters.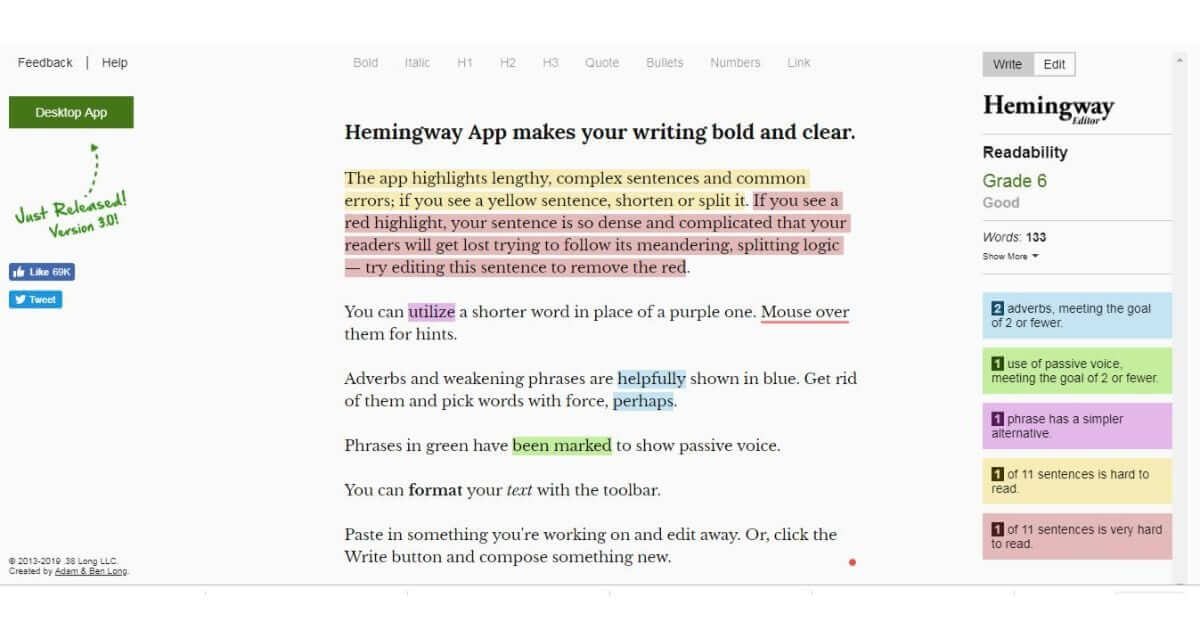 This app understands the essential factor of content optimization for SEO. It follows the principle of "KISS- Keep it Short and Simple". The average reader has a span of fewer than 8 seconds, which is why it is essential to get the correct information across to the right audience in the most effective time. Hemingway helps its users understand their copy's limitations and scope of improvement by:
● Firstly, it gives a color-coded list of errors and improvements
● Secondly, it detects overly complicated grammar.
● Thirdly, it points out basic spelling mistakes.
● Fourthly, it keeps the length of sentences in check.
● Moreover, it provides an overall rank for readability ease of the overall content.
Ahref is a powerful tool that helps you find the most shared topic in any niche on social media. This is helpful for people who are looking for ideas to write their blog or article about as they can:
● Firstly it captivates on the popular trends at the right time.
● Secondly, it provides a simple keywords search that makes finding relevant topics very easy.
● Thirdly, you can see the results/analytics to see what worked and duplicate the same practices in their next blog.
● Fourthly, it provides insight into competitor's backlinks and keywords.
● Lastly, it helps filter the high-quality links to low-quality links.
However, there are certain challenges or limitations I faced when I used this software were:
● High prices make it accessible to fewer people.
● Some alternatives have better UI at cheaper rates. So there's a scope of improvement there.
● The tools load slowly at times.
In this post you learned:
Keeping an eye on the competitor's practices, to see what's working for them.
To sum up, these are the top 5 content optimization tools for SEO that cater to most of the content optimization factors you need to take care of.
Many other tools can be of value for improving your content optimization as well, such as SurferSEO, Copywritely, WordTracker and many more that you should check out
Are you looking for an external agency to help you grow revenue with content marketing? Check out our awesome content marketing service page and let us know what we can help you with.
We also recommend looking at our new guide – SEO for dummies.