What are backlinks?

A backlink is a link that a website gets from another site, webpage, or web directory. Backlinks directly affect the rank of the website in search engine results.
Why do you need to monitor your backlinks?
Monitoring backlinks is essential as it helps you build excellent links that allow you to find relevant, high-quality sites for growing your business.
Additionally, monitoring backlinks allows you to monitor the performance of your brand and establish relationships with influencers or high authority sites.
Moreover, you can also recover valuable lost links that you had gained through ads. Lastly, it helps you find keywords that you can use to increase your website's ranking on Google.
Read: SEO for dummies
How to select a good monitoring tool?
A tracking tool can help you to track your brand's performance with minimum effort. Here's exactly what to look for in choosing a tracking tool.
Keyword ranking – This feature helps you find, track, and compare keyword ranking to suggest the best one for your content and anchor text. Using the right keywords can increase traffic on your website.
Technical SEO crawler – This feature is crucial for your site's success as it allows Google to identify, crawl, and index everything present on your website. Mainly this feature looks for Duplicate content, HTTP conflicts, and broken links.
SEO grade – While looking for tracking tools, you should consider the one that provides an overall SEO score of your website. An SEO score helps you find and fix problems if you have any issues and also offer suggestions to improve the performance of your website.
Mobile optimization – Mobile traffic accounts for maximum organic visitors on a website. Google search results also index mobile pages first. Hence, you must ensure your website is mobile-friendly.
User-friendly interface – SEO can be complicated and intimidating at the onset, and having an easy to understand interface goes a long way. Having an excellent quality customer service is necessary to understand the working of the tool.
The 5 best backlink monitoring tools on the market today –
SEMrush is an online content marketing and visibility management SaaS platform that provides measurable results from online marketing. 

This tool provides solutions for businesses in any industry to manage, measure, and build campaigns on all marketing channels.

As far as tools are concerned, SEMrush has 30 tools for content, social media, market research, and search for tracking your companies campaigns.

Lastly, they provide 4 packages starting from $99.95 per month.
Serpstat is an all-in-one SEO platform that offers more than 20 tools for competitor analysis, backlink analysis, rank tracker, keyword research, site audit, and more.
Apart from the usual features provides comprehensive search analysis and has more than 300,000 users.
Serpstat helps you track the progress of your site on a daily in any region and create SEO reports for your clients.
They provide 4 pricing plans starting from $69 per month.
Just like any other tool, Moz pro helps you understand your site health, keyword performance, and link building to track your website's campaigns.
Moz Pro provides research tools that allow you to analyze your 'competitors' actions, show you new opportunities, and support your keyword search process.
One additional benefit of this tool is that it has free tools and educational material to help you better understand SEO.
Lastly, they have packages starting from $99 per month, along with the option of a free 30-day trial.
SE ranking offers all SEO tools required for successfully managing and completing online marketing campaigns.
It provides a complete set of tools for keyword research, website audit, keyword suggestion, keyword position tracking, competitor analysis, grouping, and automated professional reporting.
Besides the necessary tools, it also offers social media management, marketing plan for enhancing your digital services and white label.
They have plans starting from $39 per month along with a free 14-day trial.
SpyFu allows you to search for keywords (including the ranking) as you type in the domain of your website. It works the other way around as well.
You receive in-depth insights into all existing and new SEO and PPC campaigns.
In addition, SpuFU offers campaign templates that are time-saving for people who have many clients to manage. Additionally, you can strategize in terms of what your competitors offer for the same price.
They offer plans starting from $39 per month.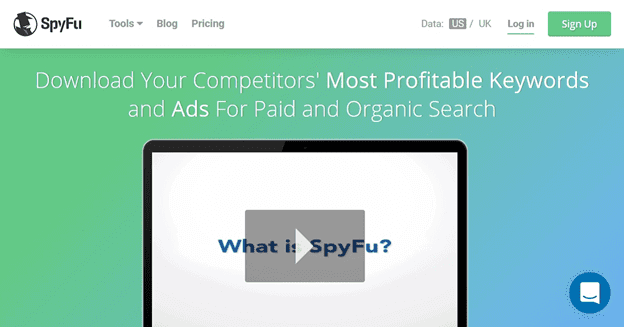 Conclusion
In this post, you learned about backlinks, why you need to monitor them, and how to choose a dashboard. In addition, you also read about 5 best tools to monitor backlinks.
Now, you're ready to use an SEO tool to monitor backlinks. This will help you improve the performance of your website and effectively increase organic traffic.
Do you struggle with acquiring backlinks? Don't worry, you are not the only one. We can help you with SEO services, to help you acquire backlinks for the website and let them focus on what they are the best at.