Are you bored of the same age-old ways of marketing your business in your community? Do you want to get out of this rut and expand beyond limited possibilities? If your answer is yes then growth marketing is the way for you.
Growth hacking is the use of creative, low-cost strategies to help businesses achieve their goals. Such marketing tactics are used by startups with a limited budget to boost their growth as they are more effective than traditional marketing.
In this article, we are going to explore some of the most powerful growth marketing strategies or growth hacks to help your startup achieve its goals in 2022.  
1 – Referral schemes to attract new customers
Want to grow your customer base? Let your existing customers do the growing for you. One of the most powerful growth hacking strategies is creating a referral scheme to use your existing customer base to grow your business.
You can do so by incentivizing them to share your business with their friends and family on social media or through messages. Many businesses use double-sided referral programs to capture the interest of both parties involved.   
Referral schemes work because your existing customer base already trusts your brand and by referring your product or service, they are providing social proof of that trust. Referrals create a chain that has the potential to grow exponentially and the growth through such schemes eventually outgrow the results that can be achieved through traditional marketing.   
To understand this better, let's look at an example of a referral scheme by Uber. Their growth marketing campaign 'Give rides, Get rides' incentivized their existing customer to invite the new customer in exchange for free rides. This helped them increase brand awareness and user reach by exponential amounts without the need for a big budget.  
2 – Aggressive content marketing strategies
Content marketing has proven to be extremely effective for increasing brand visibility and establishing your brand as a leader in your industry and it is used widely by growth marketers to help them achieve their goals.
High-quality content is what engages, educates, and/or entertains your target audience. But creating the right content strategy across the most relevant platforms is what ultimately leads to success.   
As a brand, the first thing you need to understand is your target audience. Once this is determined, you will get a better understanding of which platform your audience visits often and these platforms will then play an important role in your content strategy.
For example, if you are targeting B2B clients, SEO and platforms like LinkedIn and niche podcasts are most effective for reaching them. Once you have determined what kind of platforms work best, you can get ready to create content that engages, educates, and entertains your ideal customer.   
Another thing to remember is that you can always repurpose your content to maximize your return on interest. You can turn your blogs or podcasts into short snippet videos and use them on social media to capture the interest of your audience.  
3 – Incorporate customers through personalization
Personalization is a great way to connect with your audience and make them feel involved in your brand. Growth marketers use this to their advantage in various ways to build their community online.
Personalization can work on different levels, in one way it can involve the customer in the actual process of production and let them choose what they specifically want in their product. The other way can be creating an outreach program that lets you send customized products that cater to the specific needs of the customer.  
For example, Subway allows customers to build their own sandwich from scratch. They choose every element that goes into the making of the product and this gives them the feeling of actually being involved with the brand on a more personal level. Other smaller brands also use their social platforms to ask their audience their opinions and use the feedback from them to customize their offerings.   
4 – Brand partnerships through guest posting and working with influencers
Another great growth marketing strategy used by growth marketers frequently is brand partnerships. These help increase visibility and create buzz around your brand and product offering.   
Growth marketers use various kinds of partnerships to help them with their growth hacking. They are as follows:  
Guest posting: In this technique, growth hackers get in touch with various relevant websites and news platforms in their niche and pitch a story or content idea that will let them talk about their brand. For example, if your service is a website that helps with holiday bookings, you can reach out to other travel blogs and ask them to post a blog on a topic in your niche with backlinks to your website

.   

Influencer marketing: Another growth hack is influencer marketing. For this, marketers identify various influencers with a good social media following or blog readership in their niche and ask them to talk about their product or service.   
Brand collaborations: Growth marketers often collaborate with other brands for cross visibility. For example, you are a well-known designer and you collaborate with a popular brand to launch a limited edition range of products.  
5 – Increase customer engagement
The world moves from one thing to the other at lightning speed. To keep up with this pace your brand needs to be up to date with the latest trends and needs of the people.   
But how can your business be trendy? Well to do so you will need to identify the trend at the early stages and create content in your niche around the trend. Doing so will make your business fresh and relevant and help increase engagement.  
Click baiting is another important growth marketing strategy that is commonly used to intrigue the audience with a headline that peaks curiosity to increase engagement and traffic. Growth marketers also go a step further and use such enticing copy for the call to action at the end of blog posts or videos to intrigue their target audience to click and find out more.   
6 – Build a community around your brand
Growth marketers work hard to build an online community for their brands. This is extremely important because it results in the creation of a loyal customer base. But how do they build this community online? They do so by catering to all the needs of their customers and solving their problems and using various growth marketing strategies for increasing engagement within the community.  
Some growth marketers also use the Fear of Missing Out or FOMO to pull in new clients and make them feel like a part of an exclusive community. A great example of a brand that did a great job of creating FOMO and getting new sign-ups for its platform is Clubhouse.
The clubhouse is a one-of-a-kind social network based on voice and they launched as an invite-only platform. This got everyone talking and for weeks, people were hunting for invites so they too could be a part of this intriguing online community.   
7 – Provide easy accessibility to your customers
Attracting customers is easy, but retaining them is the difficult part. Growth marketers have various strategies to build and maintain long-term relationships with customers by keeping them satisfied.   
They create a growth marketing strategy aimed at providing the customers the ease of access to support and help so that they feel heard. This is done by the implementation of chatbots that can solve issues and answer the most frequently asked questions for the customer.
With the generic problems being solved by the chatbot, only bigger issues need to be dealt with by the customer service teams, reducing the workload and the investment, which can be great for small startups with limited budgets.   
What is growth marketing strategy?
Growth marketing strategy is basically a digital marketing strategy focusing on growth of the business. It is commonly used within startups with limited budget aiming to grow rapidly.
Strong growth marketing strategy is established by successful growth marketers who understand the whole funnel and can adapt to any business. 
Growth marketing funnel is extremely helpful and important aspect of modern marketers to establish successful growth marketing strategy.
Get a free template!
Fill out this form to access the growth marketing funnel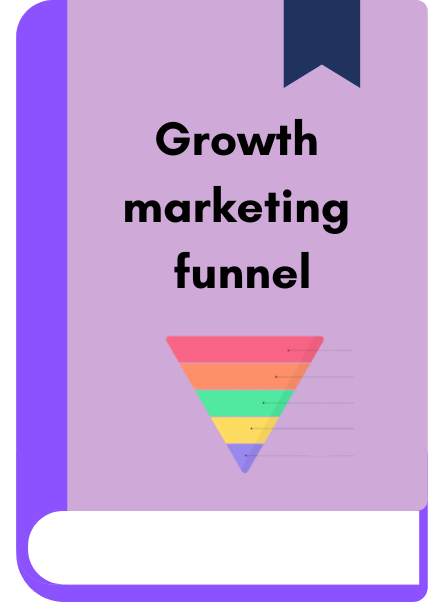 By submitting your e-mail you agree that Soar will register your email to the marketing database.
If the agency or a growth marketer will deliver a "custom" plan for you within a few hours, something is off… He / she most likely just copied the template from a different client and handed it over to you as a "custom" growth strategy just for you. It takes time to build a custom growth marketing strategy, keep that in mind.
 Conclusion
Effective growth marketing strategies can deliver sustainable growth for your business in a long run. Don't forget about understanding the customer journey and customer lifetime value as these two aspects can literally change your business.
Remember to adjust your growth marketing campaigns for your potential customers / clients in order to improve your lead generation and get the right traffic on your website, app or anything else that's your focus.
Schedule a call with our team to learn about how Soar's growth marketing strategies can help your business achieve exponential growth on a budget.