Growth hacking is a concept that has people talking. It is especially popular with SMEs that want to grow their business fast and see substantial results in a short span of time. But what is growth hacking really?
In this article, we are going to explore the growth hacking definition and look at effective growth hacking examples to help you understand the term better.
What is growth hacking?
Growth hacking is the use of creative, low-cost strategies to help businesses achieve their goals. Your business goal could be to gain and retain new customers, or increase brand awareness, or boost the number of app downloads.
Growth hacking is based on a scientific method that has been around for hundreds of years. Keep in mind that growth hacking isn't just about improving your marketing, but improving the whole business as it is. In other words, growth hacking is about looking at the big picture to find opportunities to accelerate growth.
4 main stages of growth hacking
Growth hacking is all about gathering ideas and running experiments. Not all ideas can be converted into experiments. Idea is something that you can change or improve within your business, but cannot really measure it. Experiment is something "improved" that you can measure and analyze.
What is an experiment?

Experiment can be to add a call to action button to the header navigation.
The experiment can be totally different for your business. An important thing is to run an experiment, test it, analyze it and keep increasing the amount of experiments you run over time.
Ideas
It all starts with generating ideas to grow your business. Come up and gather as many ideas as possible and put them in one place (tool). I personally use Glidr and it's been very helpful so far!
Prioritize
Next step is to prioritize your ideas with the so called ICE scoring method. "ICE" stands for Impact + Confidence + Ease.
Impact – how much your idea will affect your key metrics
Confidence – how sure you are that it is going to work / help
Ease – how difficult it is to implement the idea
ICE scoring method was "invented" by Sean Ellis to help prioritize growth experiments. Later, it has gotten very popular within product marketing and is commonly used by many product marketers all around the world.
Test
Next step is to test your ideas / experiments. The goal is to keep increasing the amount of experiments you run over time. Do you currently run 2 experiments a month? Fine. Run 4 experiments next month and keep running more experiments in the future. The more experiments you run, the higher chances you have to growth rapidly. Remember to keep track of everything so you can analyze it later on.
Analyze
The most important part is to analyze your experiments. No point to run tons of experiments if you don't analyze them and see how they performed. Use a doc or an online tool, whatever works the best for you, but make sure to write everything down, so you can always get back to it.
See the growth marketing cycle below.
No matter what you want to achieve, a growth hacker will be able to create the right strategy to help you reach them efficiently.
Create a hypothesis
It is important to have a clear hypothesis of what you are trying to figure out when you run an experiment.
Hypothesis is when you guess what is the expected outcome of your experiment. If we do that, this will happen.
Growth hacking definition by Sean Ellis
Growth hacking is also commonly known as growth marketing and the term first originated in 2010 when Sean Ellis coined the term for the marketing tactics used by startups with a limited budget to boost their growth.
Since then, growth hacking has also become popular with large, traditional companies like TikTok, Twitter, Airbnb. Shopify, Uber, etc. to grow their business. These companies have their own in-house growth hacking department along with a Head of Growth to help them grow faster.
Popular growth hacking strategies
While growth hackers use various different and unique strategies to help them achieve their goals, the most popular growth hacking strategies include a mix of content marketing, product marketing, and digital advertising. But what makes growth hackers different from regular marketers is their mindset.
Growth hackers conduct testing and scientific experiments on their audience to see what works best and constantly tweak their strategy based on their findings. This ensures that they get the best return on investment and helps them achieve their targets more efficiently.
Content strategies used by growth hackers include adding value to potential customers through a company blog, guest blogging, correct and efficient use of SEO, podcasting, webinars, influencer and email marketing, product reviews, Reddit and Quora marketing, creating eBooks and whitepapers, running contests and giveaways, etc.
Download Reddit case studies
Fill out this form to access Reddit case studies.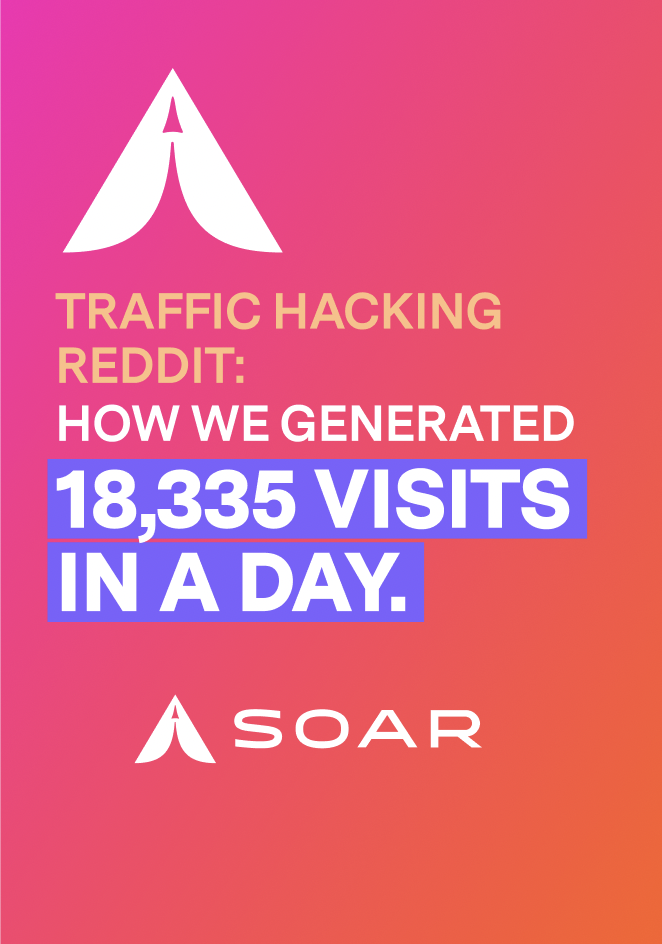 By submitting your e-mail you agree 
that Soar will register your email to the marketing database.
A growth marketer will leverage the power of these to create a unique strategy that is designed to convert and help their client achieve their goals.
When it comes to product marketing, growth hackers use tools like affiliate marketing, invite-only signup systems, referral, and loyalty programs, and gamifying user onboarding processes to make it more interesting and enjoyable for their customers.
Growth marketing also leverages the power of social media and search engine advertising and pay-per-click (PPC) advertising to help them reach their goals.
Growth hacking examples
Now that you have a clearer idea of the growth hacking definition and you know about the popular growth marketing strategies used, let's look at some famous growth hacking examples:
AirBnB and Craigslist
When AirBnB just launched, they wanted to target the right audience and bring them to their platform to create brand awareness and attract the right customers. At that time, Craigslist was one of the most popular forums for renting houses and it was where their target audience was most active.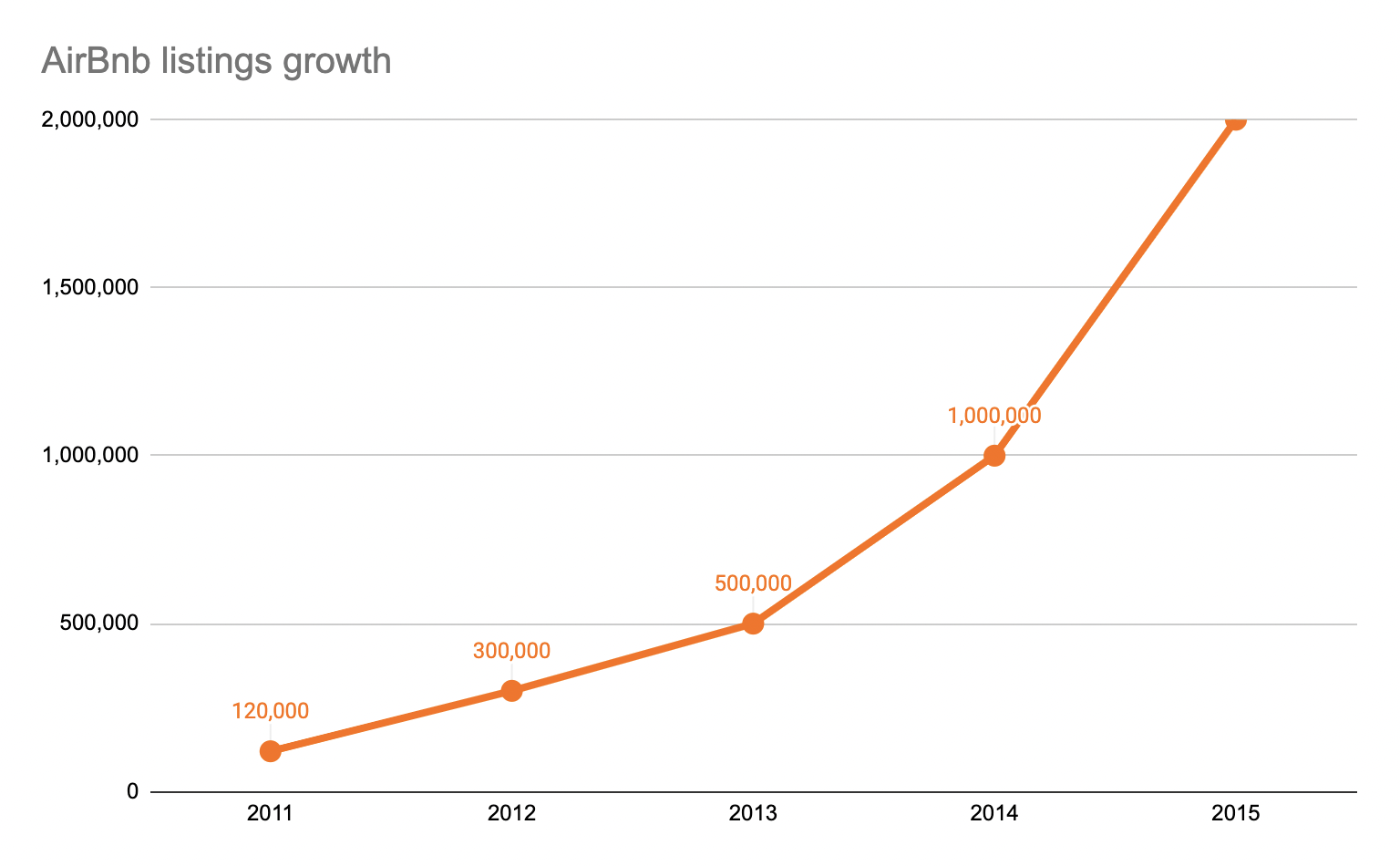 So, AirBnB leveraged the platform to drive traffic to their app by listing their properties with a link to their own platform. This helped them gain visibility with the right audience, drive targeted traffic to their website, and helped increase app downloads.
While they started off with manual posting, they eventually created a bot to automate the Craigslist posts so that they could continue to drive the right people to their platform.
DropBox referral program
DropBox created waves with its revolutionary referral program. They were one of the first companies to create a referral program to get their existing customers to bring in new clients.
They offered their customers 250 MB of free extra storage for every friend that would sign up to their platform. They made it possible for their customers to share their referral code with friends and family easily via Twitter, Facebook, and email.
This referral program was highly successful and it helped DropBox grow from 100,000 users in late 2008 to 4 million users in early 2010. The campaign recorded about 2.8 million invitations being sent out every month during the peak. The program went viral and helped the company reach its goals efficiently.
See their current referral program below.
Hotmail and P.S I Love You
When Hotmail first began operations in 1996, they were the first-ever free email providers in the market. They wanted to grow fast and in order to do so, they placed the phrase 'P.S I love you' with a link to their website at the bottom of every email sent by their users.
When the receiver of the email would click and visit the Hotmail website, they would immediately sign up as it was a free service. This helped Hotmail go viral and reach 12 million users in just 18 months. It was a big achievement at that time given that only 70 million people in the world had access to the internet.
What should you know before hiring your first growth marketing agency?
Now that you know all about growth hacking and the power it has to help your business grow, you may be wondering if you should find yourself a growth marketing agency. But before you decide to go ahead with it, ask yourself if your product is market-fit.
Does it have a sizable audience who would find your product useful enough to pay for it? If yes, then you are ready to go ahead and hire your first growth hacking agency.
Here are some tips to help you select the right growth marketing agency:
Research or ask for recommendations
The best way to find a suitable growth hacking partner for your business is by asking trusted business acquaintances for references. You could also do a quick Google search to find some of the top agencies in the area that may fit your needs.
Make sure to check their website and social media channels to check their client list and their references. You may also want to check if the agency has worked for clients in your sector or in related sectors before. This will help you shortlist and pick one or two agencies that you could reach out to.
Reach out to the agency and ask for case studies
Next, once you have shortlisted your agencies, reach out to them and set up a meeting so you can get to know them better. Make sure you ask them for case studies of campaigns they have worked on before and explain to them your needs so they can guide you forward.
Ask if you could start on a trial basis
If you are still not sure who to pick, you can ask each to work on a small project for you on a trial basis. The agency that helps you achieve your goals best is the one to select.
Growth hacking process
It consist of growth hacking strategies (growth hacks) that aim towards the same goal – rapid growth. Rather than just a rapid growth, I recommend aiming for a long term scalable growth that. You need to have a growth hacking mindset to fully understand the process and find growth opportunities.
Conclusion
Let's be honest. Growth hacking works. However, people consider growth hacking as literally hacking the system rather than a marketing strategy with exponential growth. Once again, growth hacking is about business growth, finding other growth opportunities, conversion rate optimization (CRO) and going an opposite direction as traditional marketing would go.
Growth hacking has become a hot topic in 2021 and we expect to see even more in 2022. Follow growth marketers (such as myself) to find out more about the growth hacking. We at Soar, are working on producing growth hacking tips and growth hacking tactics to help you growth your customer acquisition stage and your business.
Achieve growth with us
Read a Case Study about how our growth hackers at Soar hacked 118,335 site visits in one day for our client with Reddit or schedule a call with our team to learn more about the right growth hacking strategy for your business.