There's no question that we are now living in the Digital Age. The 21st century is currently online. Especially with the pandemic in place, our reality has become boxed into the virtual world.
Synonymous to our lives now are the terms online, social media, and gadgets. The online world has become a haven for marketers who want to put their products and services under the spotlight.
I'm sure you have heard of social media marketing and email marketing. These two are o online strategies that have been found effective by digital marketers.
Facebook, Twitter, and Instagram are three of the most widely-used social media platforms for marketers. The results are astounding. Most companies are already on these social media platforms sending out every type of advertisement.
Now, one of the main rules of business is to always go against the flow. When people are going right, you go left.
Thinking outside the box allows you the highest chance of success, primarily when you can't compete in a field completely dominated by the big brands.
Sites with user-generated content like Quora and Reddit provide golden opportunities for companies to market their products and services.
Benefits of Reddit marketing and Quora marketing
The benefits of adding Reddit Marketing and Quora Marketing into your digital marketing strategy include:
Increased online traffic
You can leverage Reddit and Quora's online traffic to redirect them to your website or online shop. There are two ways to redirect traffic properly:
Adding relevant outbound links to your answers/threads
Adding the link of your website to your profile
High-quality leads
Unlike other digital marketing strategies like PPC, you are assured that the leads you get are high-quality. In the field, this means that the chances of conversion are higher. If they click on your link, that means they're interested and not because they accidentally clicked on your popup ad.
Boosted Brand Authority
Posing your brand as an authority in your niche will do wonders for your online reputation. Seeing your name pop up in several answers will send out the message that you're "one of the best" in the industry.
Read: What is Online Reputation Management and Why You Shouldn't Ignore It!
Reach niche audiences
While Facebook and other social media platforms allow targeted audiences for their ads, they're still not as specific as Quora and Reddit can. With these two sites, you can connect with people you know are already interested in your product or service.
You could also use this opportunity to conduct some market research. What are the usual queries/problems that your audience has? Can you resolve it? How can you position your brand as the solution to their troubles?
If you're apprehensive on whether you should invest resources on Reddit and Quora, here are some site statistics:
Reddit statistics
Here is a summary of Reddit user statistics that you might find interesting:
Reddit has over 430 million monthly active users
In the United States, Reddit is the sixth most popular social networking mobile app
More than half of Reddit's desktop traffic is from the US
Almost one in four adults aged 25 to 29 uses Reddit
There are over 2.2 million subreddits and 130 000 active communities
Get access to Reddit traffic hacking case studies
Fill out this form to access Reddit case studies.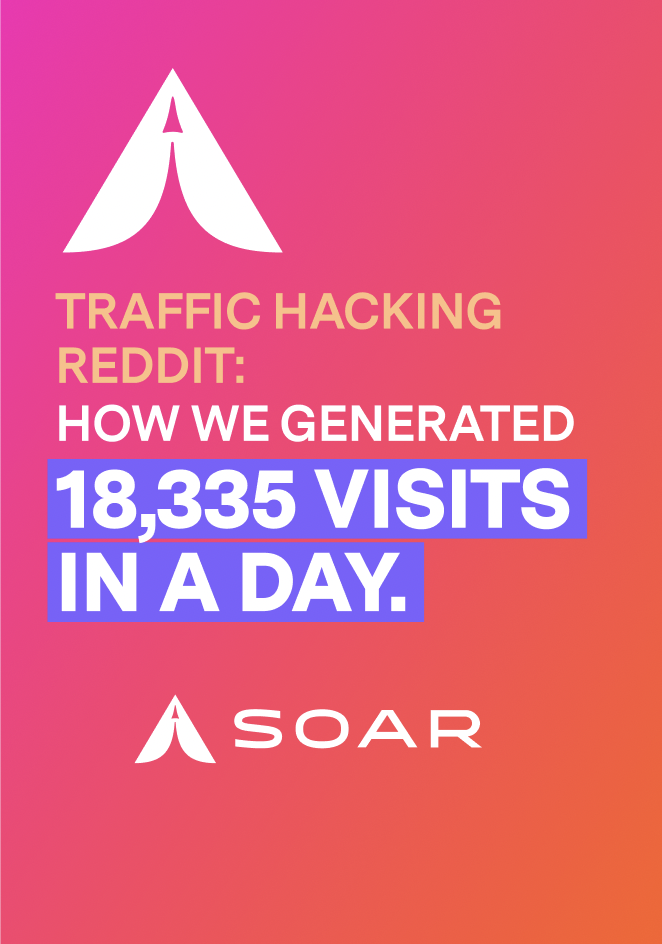 By submitting your e-mail you agree 
that Soar will register your email to the marketing database.
Quora statistics
Here is a summary of Quora user statistics that you might find interesting:
Quora may not be as big as Twitter or Instagram, but it is slowly gaining popularity. Last 2020, it received almost 500 million monthly users
Nearly 75% of this traffic comes from mobile users
35% of Americans use Quora
Adults spend twice their time on Quora than on LinkedIn
Businesses marketing on Quora saw as most as 4x more conversions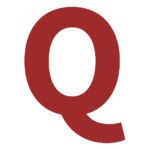 Get access to Quora traffic hacking case studies
Fill out this form to access Quora case studies.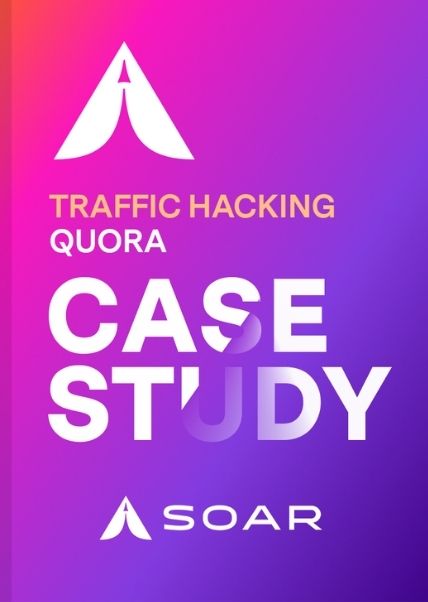 By submitting your e-mail you agree 
that Soar will register your email to the marketing database.
Best practices for Reddit marketing and Quora marketing
Are you now intrigued? If so, read ahead. Expert marketers from Soar, one of the country's best growth marketing agencies, outline the best practices for Reddit Marketing and Quora Marketing.
Be an active member
Both Quora and Reddit users will not trust your account if it's brand-new and exclusively filled with promotional content. Take the time to be a genuine participant of Reddit and Quora.
This also decreases the chances of your posts getting flagged as spam by the moderators.
Know when to post
The best times for engaging on Reddit and Quora are in the mornings on weekends and Mondays. These are the times when people are the free-est to browse online. Check out when to post on Reddit.
Use a short title
The title length of your Reddit post must be between 20 to 80 characters. Stats say that these posts perform the best.
Add videos
Reddit users play over 1.4 billion videos on the platform, so if you're going to market your brand, try to include a video.
Engage with the community genuinely
Come to the platform with the mindset that you're making an account to be part of the community, not self-promote. Spend 80% of the time enriching discussions and use only the remaining 20% to promote your brand.
You can also take this time to make friends and generate a loyal following.
Share ONLY updated and credible information
It is your responsibility to fact-check. False information can have adverse effects on both parties. Sharing outdated information or fake data can have you removed from both sides, not to mention the backlash you're going to get.
Online mobs may not be able to hurt you physically, but they can do so much worse on your online reputation. Your brand will have a hard time recovering from that.
Post original content
Never post copy-pasted content on Quora or Reddit. Write your own content and make sure that it's valuable and adds value to the thread. Copy-pasting content will look spammy, and chances are you'll get deleted quickly.
You're not writing a novel
Answer the question being asked and nothing more. Quora users are on Quora specifically because they don't want to read a long-winded article or journal.
Try to limit your answers to a maximum of 500 words. Only go above this word count if you think all of the parts are extremely necessary.
Don't spam your links
Subtlety is key when it comes to Reddit and Quora marketing. One rookie mistake that we always see with starting marketers is spamming links. Spamming your links on dozens of threads and Quora answers will do you no good.
Most of these will get flagged as spam, so your time and efforts are just wasted. Worse, your audience immediately connects your brand as spam. Only add your outbound links on relevant content, and don't try too hard with your sales talk.
Need help? Soar is here
Does it sound too overwhelming? No worries. That's why we're here.
Soar is a digital marketing agency established to support companies in their journey to success. You can check out our community marketing services such as Reddit trending posts, brand mentions, subreddit development, Paid ads and Quora answers. 
Give us a call, and let's get your Reddit and Quora campaigns started.